Lombardia is considered to be the richest of the Italian regions. It is located in the north of Italy, and although not touched by the sea, it is dotted with the most beautiful Italian lakes: Lago di Garda, Lago di Como, Lago d'Iseo and Lago Maggiore. The lake area is very popular with tourists from all over Europe, as they are set at the foot of the Alps.
The views are spectacular, the air so mild in all seasons that olive and lemon trees grow at the foot of the mountains, and, being equipped for all types of sports, especially sailing, this is the ideal place to spend a vacation.
But Lombardia is much more than lakes. Each of it's 13 provinces: Bergamo, Brescia, Como, Cremona, Lecco, Lodi, Mantova, Milano, Monza e Brianza, Pavia, Sondrio, and Varese possess their own traditions.

The capital is Milan, which is also considered the economic and fashion capital of Italy. An elegant city with the famous Duomo, the Scala Theater, the Castello Sforzesco. Moving from north to south there is Sondrio, in the mountains and home to many skiing champions; Varese, on the shores of Lago Maggiore, Como and Lecco, with their beautiful villas facing lago di Como, and home to the most beautiful silks in Europe; Brescia, second to Milan for industry, Bergamo, a marvel of architecture, Cremona, home of the famous Stradivari violins, and of the delicious Torrone, Monza and it's Formula 1 Grand Prix, Pavia, famous for it's university dating back 1000 years, and for being the rice-paddy capitoa of Italy, and Mantova, the land of the Gonzaga family, powerful lords and great gourmets.

The diversity makes for a myriad of cuisines, from the Risottos, most famous of which is the "Risotto alla Milanese", with saffron and served with another popular, "Ossobuco" braised veal shank. Another favourite, and the basis for the Lombardia diet from the 15th century is the golden Polenta, made from corn flour, and served with roasts and braised meats, or, in the mountains, Polenta "taragna" made with "grano saraceno" and served with melted cheeses.
Lombardy is the region that raises boiled meat to it's apex, using all types of cuts of both pork and beef, and serving it with the famous mostarde (sweet and sour fruits).
The alpine pastures are so rich that the cheeses in Lumbardy are, as in it's neighboring mountain regions, quite numerous. The dairy industry is one of the major in Italy for Gorgonzola, Taleggio, Stracchino Bresciano, and Grana Padano.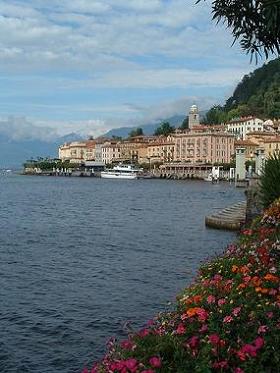 Bellagio - Photo: Nancy Koch