On June 26th, 2013, I had the honor  of hosting a dinner at Joanne Trattoria  on New York's Upper West Side, owned  by Joe and Cynthia Germanotta.  From  the moment I entered their charming  restaurant, I  felt a responsibility to throw an unforgettable Cooking  With Nonna production. I immediately felt  at home in their cozy dining room,  and chef/manager Travis Jones' warm and friendly demeanor made me feel as if we  had known each other for years.   Upon meeting the team at Joanne, I  knew I wanted to plan something really  special that would allow both of our  businesses to work together.

Last March, Nonna and I were incredibly  fortunate to teach a class at La  Scuola di Eataly.  The formula for  the classes are usually the same, featuring  a 3 or 4 course cooking demonstration and a plated meal, with a wine presentation in between.  Now, to be honest, doing  live cooking demos was never quite my forte in the beginning of my career,  but they've actually grown on me quite  a bit.   I used to be plagued  by nervousness and anxiety before, I'd  have to stand in front of a group  of people and prepare them a dish.   I would just say a prayer that everything  would turn out edible and I wouldn't  end up  banally rambling about how  the bookstore was all out of Live  Cooking Demo's for Dummies  just to  fill up time.  These days, I really feel  a connection with an audience, and teaching  classes has become something I look forward to.  In fact, I try and replicate the learning  experiences I had learning from my own  Nonna in her kitchen.  After all, having  the Nonne present in the classes is  such a precious gift to begin with.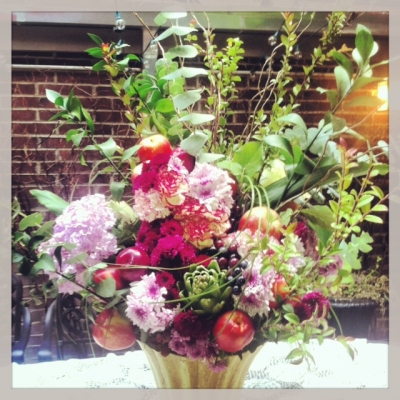 Given the great success of the Eataly  class, I couldn't wait to plan another  event with some of the same structure.   I was thrilled when the crew at Joanne  was as excited as I was about the idea.  The  result ended up being an unforgettable  evening for all who attended.   From  the moment the guests arrived, they were in  awe of the amazing tablescapes created  by Maryla Colandrea of Art of Perfection  Event Design.   She created incredible  centerpieces using empty tomato cans filled  with basil, sunflowers, and artichokes, creating  an environment as fragrant and rustic  as Italy itself.    Everyone was  seated in such close proximity that by  the end of the evening  they were  all friends.  It completely warmed my  heart overhearing bits and pieces of conversation such as, "We should get together  next week" and "I can't wait  to share this recipe with you". As  for our recipes,  we decided on  a Sicilian/Pugliese fusion menu, honoring  the southern Italian heritage we share with the Germanottas. We served  an appetizer of Arancini, a typical Sicilian  street food prepared by Nonna Angelica,  a wonderful Sicillian woman who is definitely  no stranger to cooking.  Her family owns  a chain of pork stores in New Jersey  called Tuscany.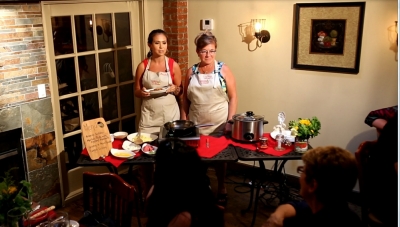 Rossella and Nonna Angelica
Nonna Angelica also lent  her expertise preparing a typical Sicilian  entre, Swordfish Spiedini stuffed with raisins,  breadcrumbs, and pine nuts.  Nonna Angelica  finished the evening with authentic Sicilian  Cannoli, which everyone enjoyed watching being  made--and eating!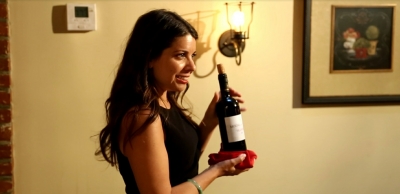 In between each course, Sommelier Annie  Shapero of Omni Wines gave wonderful insight  on Sicilian wines that paired beautifully  with our menu.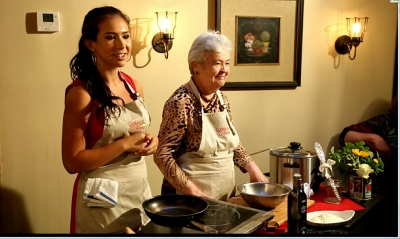 Rossella and Nonna Romana
 
Of course, Nonna Romana had to make  an appearance doing what she does best:  Pasta! Nonna and I made an  amazing  variety of pasta called Maritati, a rather  tongue-in-cheek dish, which is a  mixture of Orrecchiette and Maccheroni.   They're name comes from the literal translation  of "married couple," because the Orrecchiette  and Maccheroni represent the male and  female anatomy that compose a married  couple.  We garnished our pasta with  a delicate tomato sauce and tiny eggplant  meatless meatballs.  These were a variation  of  "War" meatballs, or meatballs  made during World War II, which were very  popular in poor southern Italy when Nonna  was a young girl.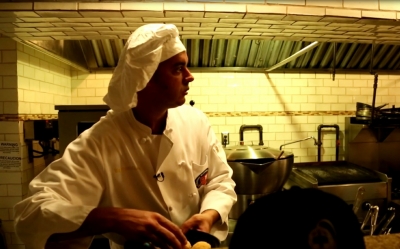 While the Nonne and I were busy  setting up demonstrations, my good friend  and colleague
Chef Paquale Martinelli
of  Warm Palate was toiling away in  the kitchen making sure that every dish the  wonderful staff of Joanne Trattoria produced  was up to Nonna's standards.  When  it comes to execution, there is no  one I trust more than Pasquale because  of his unfailing respect and appreciation  for Italian cuisine.  His style can  only be described as organized chaos, but  he handles every situation with the grace  of an actor performing great theater, and  never disappoints as far as execution  and entertainment. I'm so proud of the  work we have done together, and this  event was no exception.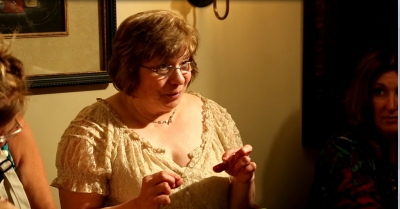 Also in the kitchen was a wonderful  friend of Cooking With Nonna, Lucia Drago (Lucy's Place),  who is an absolute expert in Sicilian  cuisine,  Her  hand made Arancini  and cannoli were a tremendous success.  My many thanks to her and her personal  touches she lend to the evening.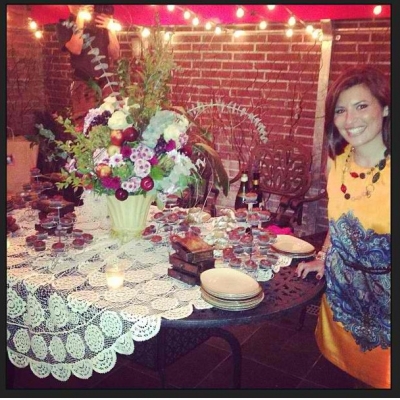 To conclude our food demonstrations, Maryla  from Art of Perfection Design transformed  Joanne Trattoria's beautiful back garden into  a stunning dessert  bar where guests  mingled and enjoyed even more of Lucia's  Cannoli as well as Cannoli imported from Sicily by
La Corona di Sicilia
, along with Lavazza espresso made by master  barista Salvatore Foto.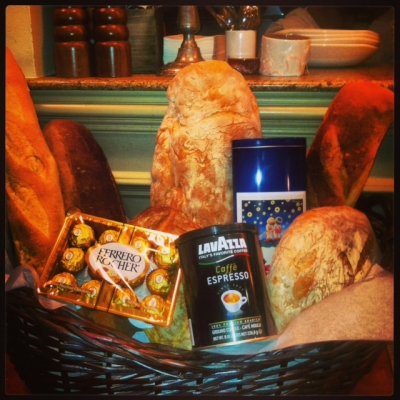 Tanti Baci,
Rossella
***
Videos from the Evening