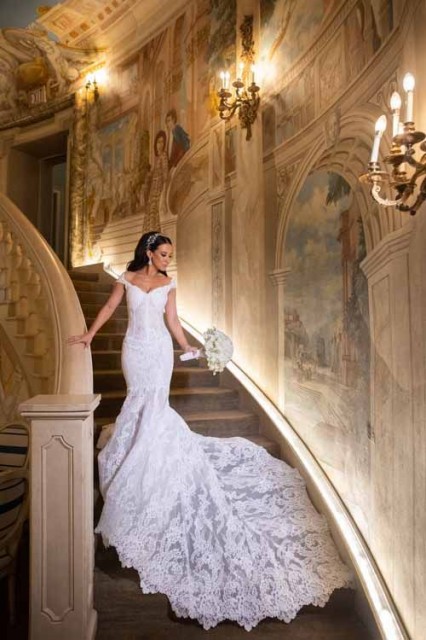 Ciao everyone! I know it's been a long time coming, but I finally had the time to sit down and write my wedding blog. The past few months have brought so many wonderful changes to my life — most importantly, my last name! On May 3, 2019 I officially married the love of my life and officially became Mrs. Pesce. Here are a few special details about the most wonderful day I've ever experienced.
Because we all need a little help from our friends…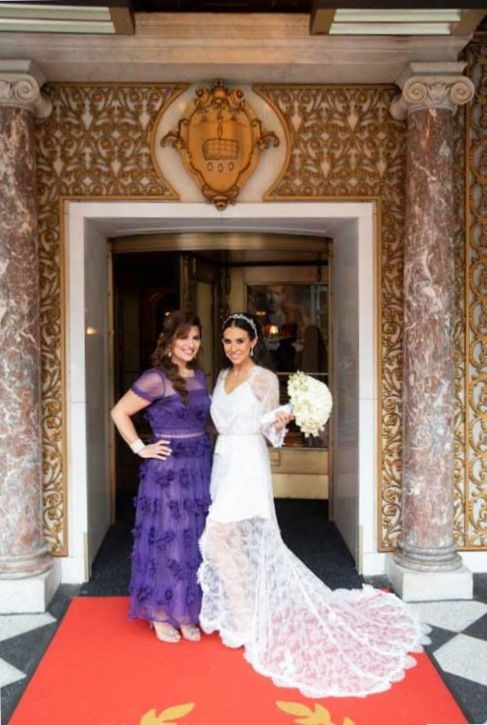 One sentence to sum up my wedding planning experience? "THANK GOD MY BEST FRIEND IS A WEDDING PLANNER!" I simply have no idea in the world what I would have done without my beautiful friend Maryla of Art of Perfection event design. (If you guys took the time to read my bridal shower blog, then I think you already know what an incredible job she did making my lemon fantasy a reality for my BRIDAL SHOWER. Throughout the entire process Maryla was my planner, friend, therapist, and sometimes just a shoulder to cry on as we both embarked on this incredible journey together.
To Italy and Back!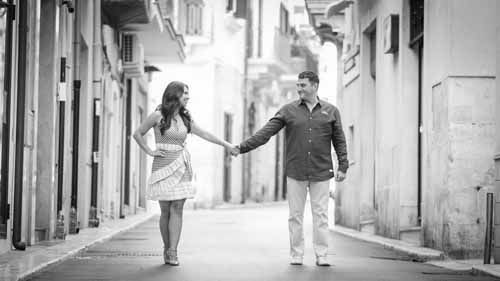 Approximately two minutes after my fiancé Nick popped the question last summer in my happy place, Polignano a Mare, I made a frantic phone call to Maryla, who had been waiting with great anticipation to start planning. (She also may have had an idea that an engagement was in the air!)
Immediately we began planning a grand wedding in Italy, and since Maryla specializes in Italian destination weddings, I had zero reservations that everything would go perfectly. BUT life had other plans. Almost as soon as we started, our plans and our hearts changed, and so we began planning our nuptials stateside! Maryla was totally unfazed by the new challenge I presented to her. While she loves a good Italian destination wedding, she was even more excited to bring the Italy to us!

It goes by fast!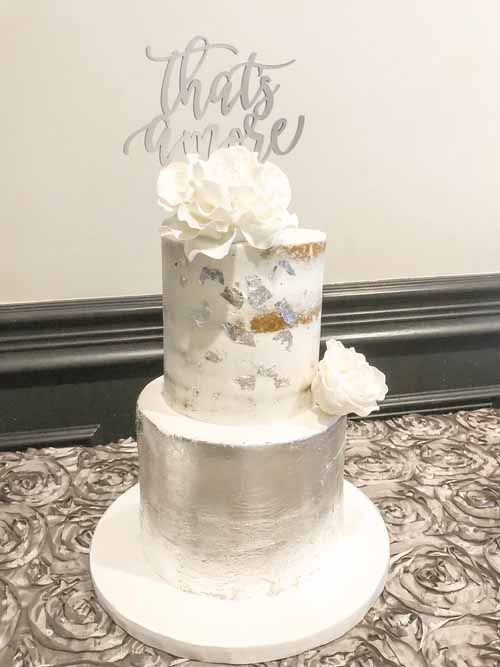 We celebrated our engagement this past October!
When people say that planning a wedding happens quickly, they're mostly being facetious. Usually couples plan for 1-2 years, taking time to painstakingly deliberate on hundreds of decisions. In my case it went by fast because, well, it was fast! I know this might seem crazy to some people, but I had been waiting to marry Nick for 4 long years, and we really couldn't wait to begin our lives together. It just didn't make sense to wait another year or two, and with our Italian summer wedding off the table, why not get married sooner? We began planning in January of 2019 and in only 4 months time, Maryla assembled a team of vendors that helped make our wedding day the most spectacular event I could have ever hoped for.
Finding a venue.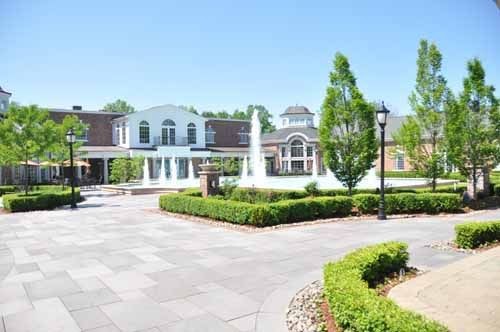 I saw a gorgeous wedding photo at The Rockleigh and decided to go see it. As soon as we set foot on the property, Maryla and I fell in love with the regal ballroom. Immediately, we imagined the blush and white color palette with gold and marble touches. Rockni Ghorishi, the event manager, was enthusiastic from day one. Every meeting with him felt like spending time with one of my Italian uncles. "Look up at all the moldings! Everything looks Italian here! It's like being in Italy!" he would say at almost every visit. He also took every opportunity to remind us that The Rockleigh is owned by the Puccio family, who is of Sicilian descent, which really meant a lot to me because I love supporting my paesani whenever I can. I must say, once we booked The Rockleigh, a huge weight was lifted off of our shoulders.
A photo is worth a thousand words.
When it was time to choose a photographer, I knew exactly who I wanted. I had been following Rafal Ostrowski on Instagram for a while, and I had fallen head over heels in love with his distinct editorial style. It's no wonder that Rafal has a background in fashion photography — he has the unique ability to make every couple look like they're stepping off the pages of Vogue. For me personally, our photographer was perhaps the single most important vendor of the entire wedding. A wedding photographer is the person you trust to document your memories for you. Remember, when all is said and done, all you have left are your photographs! Thank you, Rafal, for allowing me to relive the most beautiful day of my life again and again through your incredible photographs. My husband and I will cherish them for years to come! Link HERE.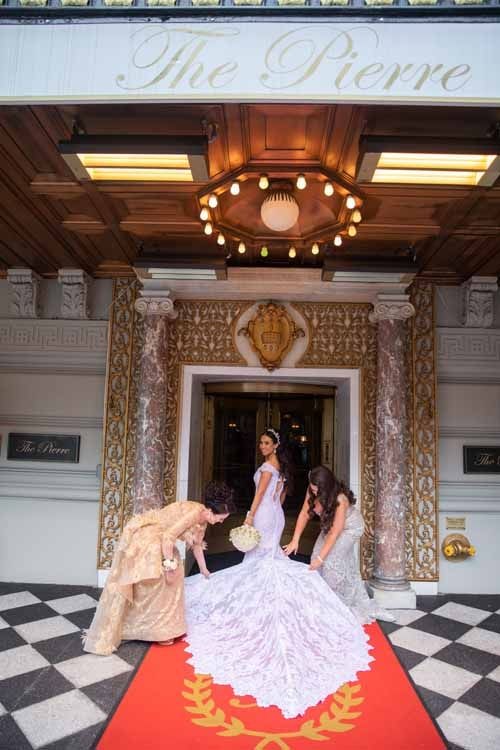 Every aspect of dealing with Rafal was super professional and pleasant. He was incredibly responsive, super creative and he went above and beyond, staying at our wedding until he felt he fully captured everything. I couldn't be happier with all of our photos, and I can't wait to put our wedding album together!

Invitations: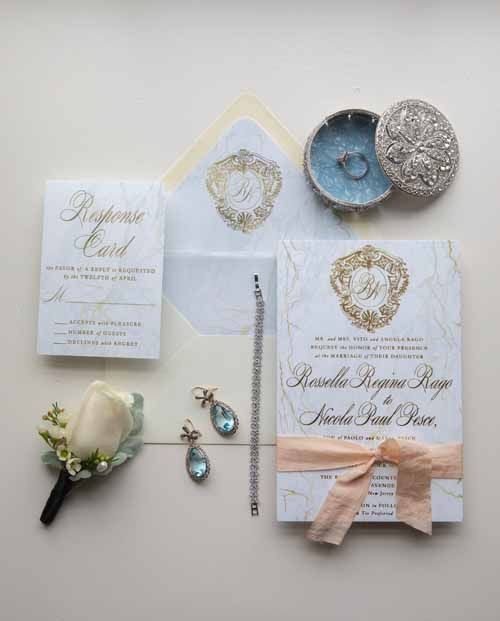 For our invitations, I trusted in Atineh from Fresh Mint Paperie to create a custom design. I communicated to her that I wanted something with golden marble tones and a regal monogram done in gold foil, and she hit the nail right on the head! Her full invitation suite including response cards and accommodation cards tied with a blush ribbon added such a beautiful touch to our wedding. Saying YES to the Dress!
Nonna Romana really wanted me to try this stunning Pnina Tornai gown on and I couldn't say no.
Someone once told me that planning a wedding is easy… once you find the perfect dress, of course! I'll admit this was the part I was most excited about, because let's be honest, a girl waits her entire life to go shopping for a wedding dress, and I wasn't going to miss out on anything involving glitz and glam! I visited a number of wonderful bridal salons in New York before I ended my search at Kleinfeld Bridal in Manhattan. Somehow I had a distinct feeling that I would end up finding my dream dress here. I had some definite ideas about what I wanted my dress to look like (I may have been thinking about this for the past 30 years or so!). I knew I wanted something super fitted, with a cap sleeve or something off the shoulder, and all LACE! Ultimately, I wanted my dress to be timeless and elegant; something that I would look back on years from now and still love. To me, there's nothing more romantic than a lace wedding dress. Nonna Romana's wedding gown from 1954 was all lace, and I couldn't exactly wear her wedding dress, or at even incorporate a piece of it into my gown (she actually lent it to a friend who couldn't afford a wedding dress at the time and it was never returned!). Nevertheless, I knew that lace would be the common thread that would tie us together.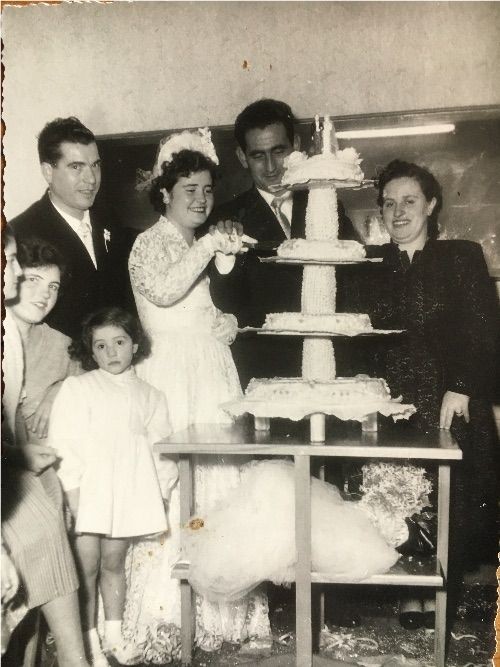 My overall experience at Kleinfeld was wonderful! My bridal consultant Francine was an Italian girl from Brooklyn (just like me!) and she really had so much patience with my family and I throughout my entire appointment, which lasted several hours. Kleinfeld was my sixth bridal salon on my wedding gown journey, and I ultimately said yes to a stunning Pnina Tornai off the shoulder lace mermaid gown with a corset back and no beading that I'd my eye on since before I was ever even engaged (don't judge!).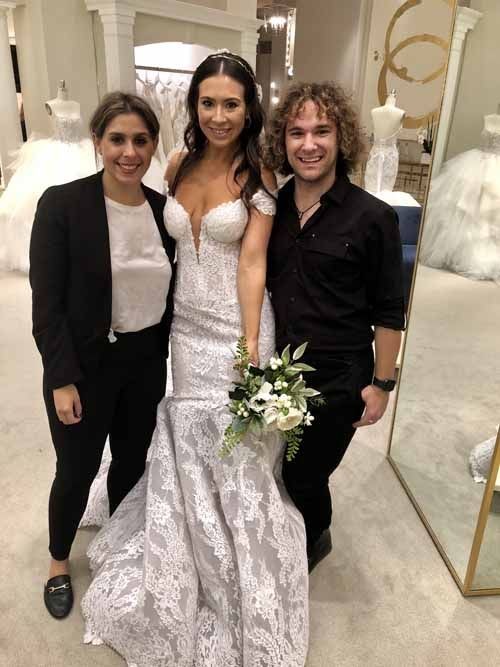 Every girl waits for that magical moment when everything falls into place and she feels like a bride. Dress shopping is wonderful, but it can also be really discouraging when you don't seem to find anything you love and that feels like you.
I remember standing in the fitting room trying on my dream dress for the first time, and as Francine began to lace up my corset, questions began to flow through my head.
"Can I do the chicken dance in this?"
"Am I comfortable?"
"What will my fiancé think?"
But as soon as I saw my reflection staring back at me, I realized I had been searching for this dress all along, and I didn't want to take it off! As I made my way out of the fitting room and into the showroom to show my friends, I became more and more confident with every step. As soon as I stepped onto the pedestal, I immediately looked to Nonna Romana's face for her approval. I stood there thinking how lucky I was to be able to have her there with me and share this once-in-a-lifetime moment. She looked me up and down and said, "You look-a beautiful, my baby!" That was enough for me. There, in the middle of the Kleinfeld showroom, surrounded by my Nonna, Mamma, maid of honor, and future sister in law, Francine asked me the magic Kleinfeld question and I said YES to the dress!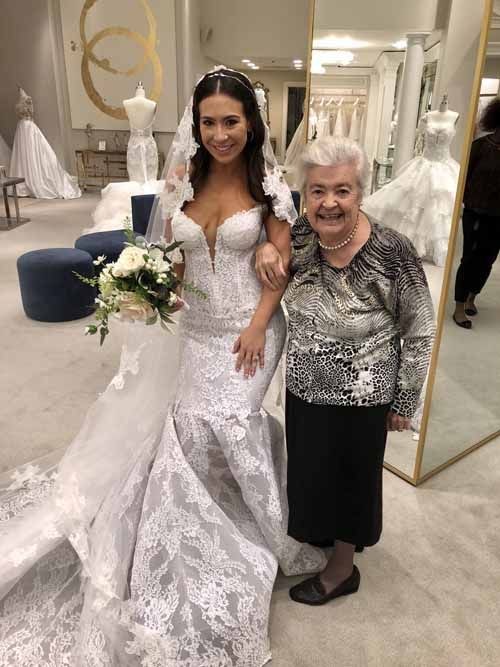 A few changes were made to the original dress to make it uniquely mine. The dress I tried on featured an opening in the middle and a lower neckline, which Nonna and I both agreed was a little too revealing for our taste. Francine assured me the dress could be made with my desired changes and everything would be perfect, and it absolutely was! The wonderful thing about Pnina Tornai gowns is that they are totally customizable to fit the unique needs of every bride, and it really adds a special flair to the overall experience.
*I had even requested the alterations department to sew a red dot into the lining of my dress for good luck, and to keep the malocchio away! They were happy to oblige with this crazy Italian request!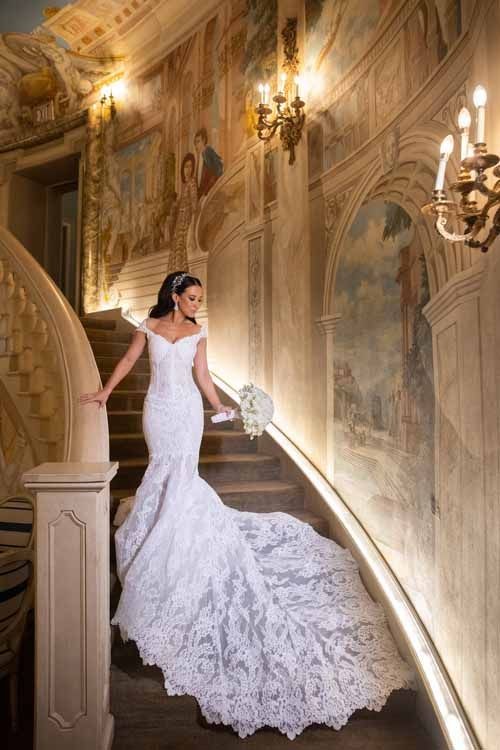 Saying YES to the dress…. Again!
Ok, so simple and subtle have never quite been adjectives to accurately describe me. I usually take every opportunity in life to dress up and go all out, because life is short and I never want to look back and think, "I wish I had worn that fun dress!" I always imagined wearing two dresses on my wedding day. After all, there are very few times in a woman's life where she can justify a wardrobe change mid-evening, and I wasn't going to miss out! After the amazing job my wonderful friend Lauren Holovka did on my bridal shower dress, there was absolutely no question that I would ask her to make me a show stopping reception dress that I could dance the night away in. Together, Lauren and I designed a stunning strapless corseted dress with a high low skirt made out of horsehair imported from Italy, which gave the dress volume and movement. The dress also featured a Chantilly lace overlay, and was accented with hand-beaded rosettes and ostrich feathers for a fun, flirty look that said "lets party!"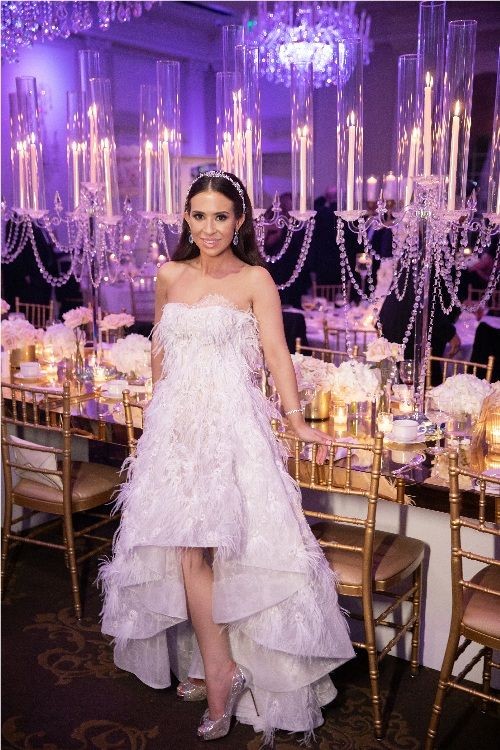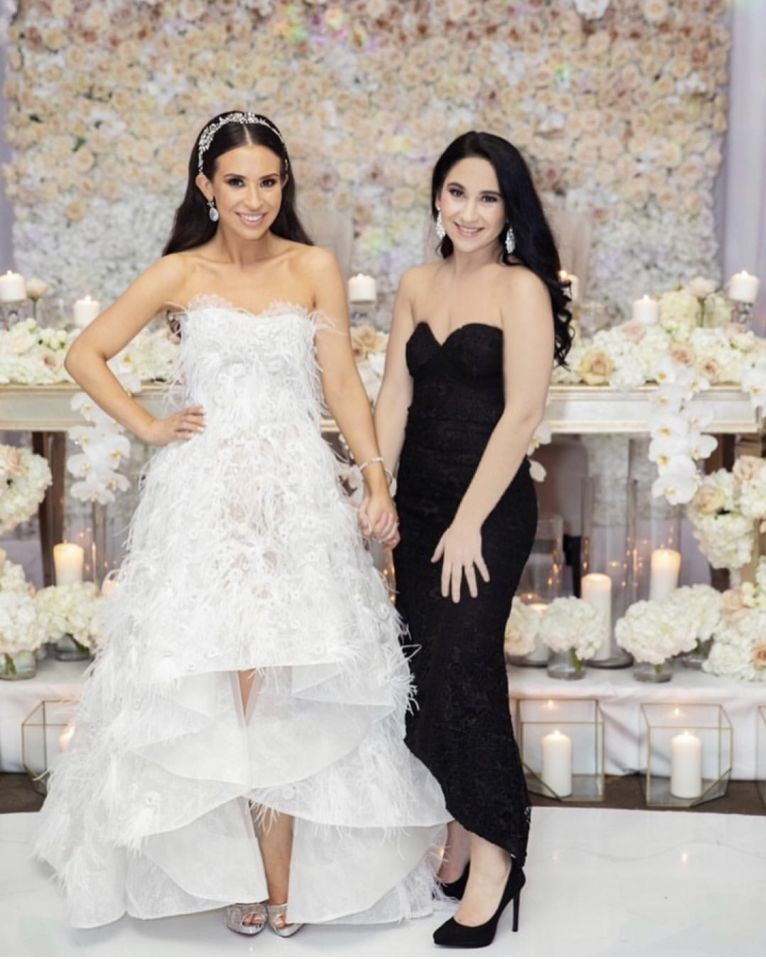 MAMMA of the bride:

Lauren was also tasked with crafting an over-the-top mother of the bride gown for one of the most fabulous Mamma's I know! If you have ever been in the presence of my Mamma Angela, then you know that subtlety isn't exactly her thing either (now you guys understand where I get it from!). To no avail, we searched the tri-state area high and low to find a gown that both flattered her and matched her big, bold personality. Thank god for Lauren and her impeccable sense of design — she created the most incredible gown! It featured three different tones of metallic rose gold lace from Paris, along with hand-beaded Swarovski crystal appliqués and ostrich feathers, just for that little something extra!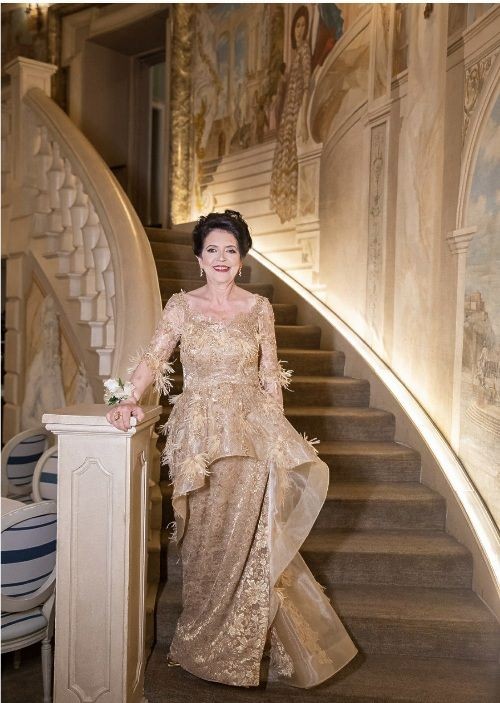 Oh, and did I mention the Italian horsehair peplum skirt that doubled as a cape when she walked down the aisle? That's right. I said cape! My mamma snuck two looks into my wedding, but I couldn't have been happier because she felt and looked like a million bucks and lets be real, Mamma Angela had been waiting for this since the day I was born! I had to let her have her moment!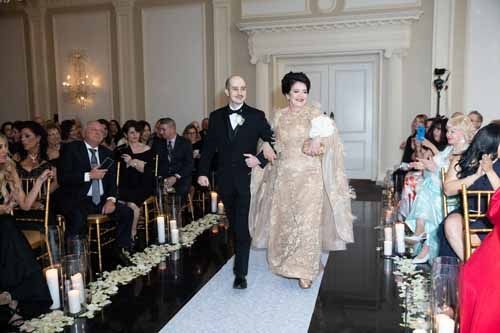 The final piece Lauren created for my wedding day was an exquisite bridal robe under her bespoke bridal robe label, Le Lauriér, that I wore as I was getting ready. The robe was so special and sentimental to me because it featured fabrics from both my shower dress and reception gown, and was made with so much love by my dear and talented friend. My bridal robe featured an open back with floral feather appliqué and a matching silk chemise and a chantilly lace train with a scalloped eyelash trim that was so very feminine and delicate.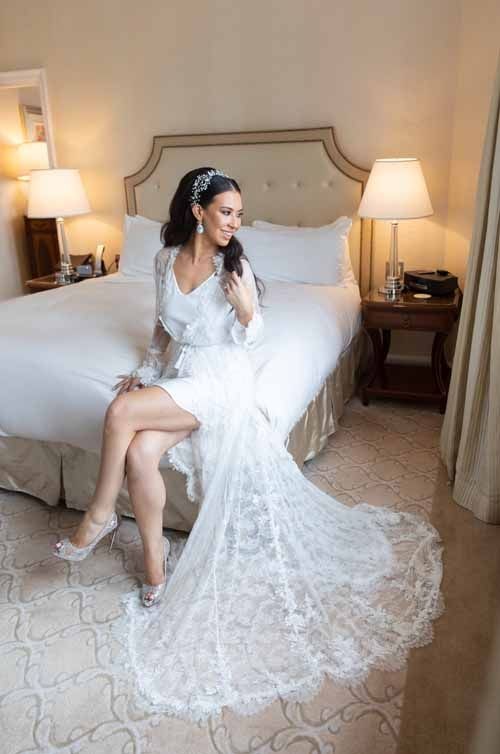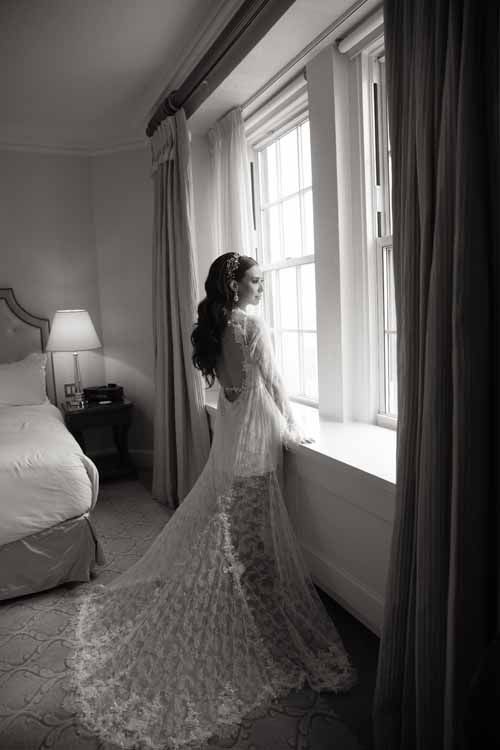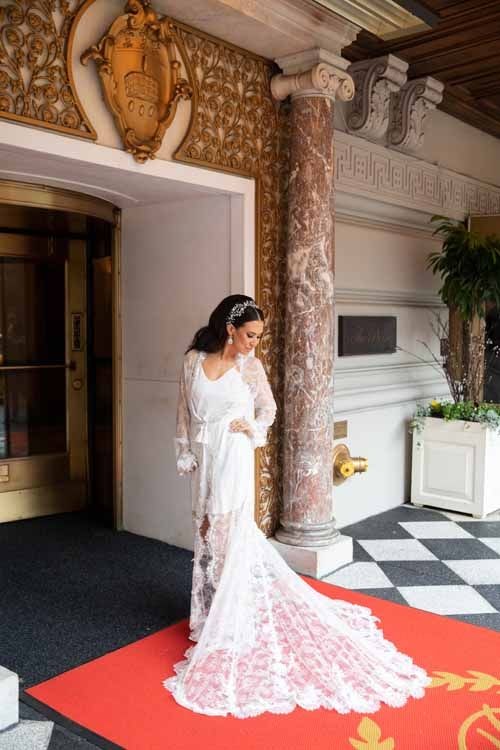 I remember standing outside the Pierre hotel in my robe thinking, "Oh my God! This is my wedding day!" Sadly, this robe disappeared shortly after my wedding. It was hung up in a closet at the Pierre and was never seen again. My heart breaks for this robe, not only because of its monetary value, but because of everything the robe represents. As I explained earlier, I never got to see my Nonna's wedding gown. I also never got to see my mother's wedding anything! I was absolutely determined to save these precious keepsakes so I could show my future daughter one day. I've left the matter in the hands of Saint Anthony, and trust that everything is as it's meant to be.
Nonna BELLA!
Finding Nonna Romana a gown was a bit of a challenge! There really just weren't a ton of modest options out there (with sleeves in particular) made with quality fabric she felt fabulous in. Being a seamstress herself, Nonna knows her stuff, and definitely didn't wasn't to settle for something mediocre. Nonna Romana had always hoped she would be alive to watch me walk down the aisle, and I couldn't rest until I found her the perfect dress that made her feel like the queen that she is! She wore a silver long sleeved beaded gown with a taffeta skirt by designer Teri Jon that made her positively sparkle from every angle! I highly recommend Teri Jon if you're looking for something elegant and conservative for your big day.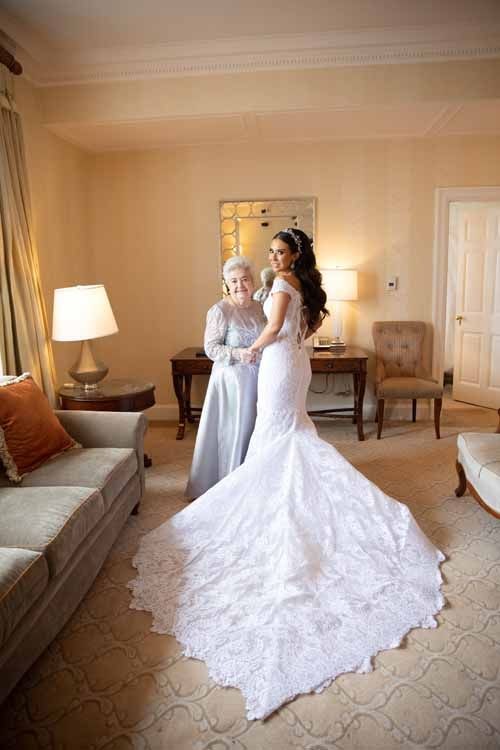 Having Nonna be present on the most important day of my life was absolutely priceless. I knew she had been dreaming of this day for so very long, and my heart was so full having her there.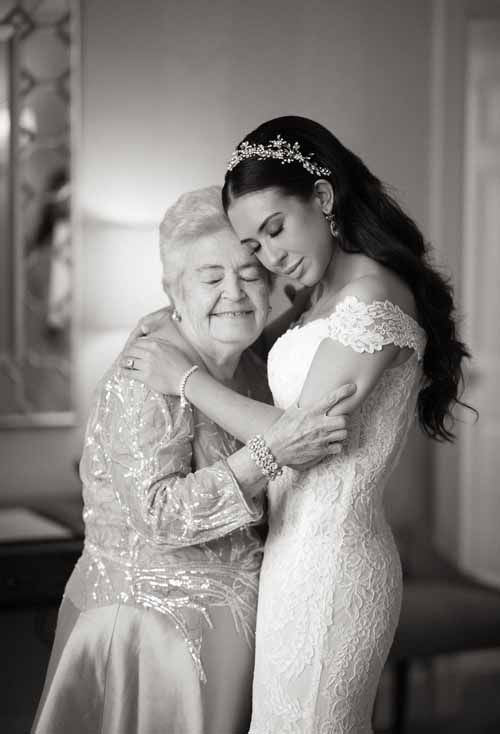 The little details…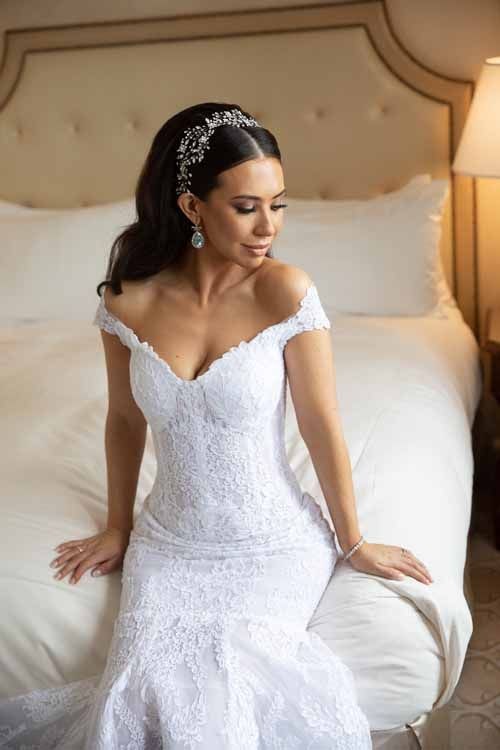 I accessorized my bridal look very simply with a pair of blue aquamarine earrings that have been in my family for years. These earrings date back to the 1920's, and served as my something blue for the day.
As for my head piece, I almost didn't wear one! I really wanted to be classic and let my dresses shine, but my maid of honor Enza begged me to at least try a few on.
If you've ever seen the Bridal Styles Boutique Instagram page then you know its literally where sparkly bridal dreams are made! Once you step inside their shop its an overwhelming Swarovski Crystal fantasy! There are endless glitzy options that would fit any bride and her personality. Needless to say I ended up choosing a beautiful crystal vine headpiece that really complimented both of my gowns. So many brides (even celebrities) travel from very far away to come to Bridal Styles Boutique and I was so fortunate to have them right in my backyard in Brooklyn!
For my makeup I trusted no one other than my wonderful friend, Gabriella Trantino to glam me for my big day! I've worked with Gabriella for a number of years now. She has done my makeup for some of the most important events in my life: both of my book covers, my bridal shower, and now my wedding day! Her makeup is always flawless and naturally glam (I really wanted to look like myself on my wedding day!) I couldn't believe how beautiful I felt all night, and how her makeup endured literally a million kisses by hundreds of well wishers.
My mamma, maid of honor, and stunning sister-in-law all had makeup services by the incredibly talented Samantha Jaymes!
Hair artist Vilda created stunning looks for my Mamma Angela, sister-in-law, and Nonna Romana herself! Contact Vilda at This email address is being protected from spambots. You need JavaScript enabled to view it.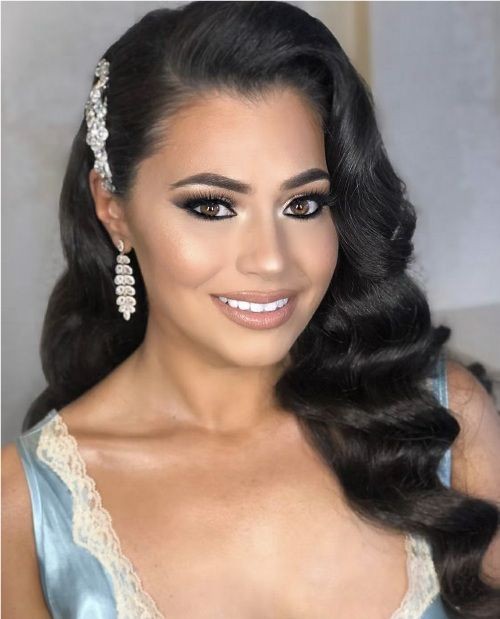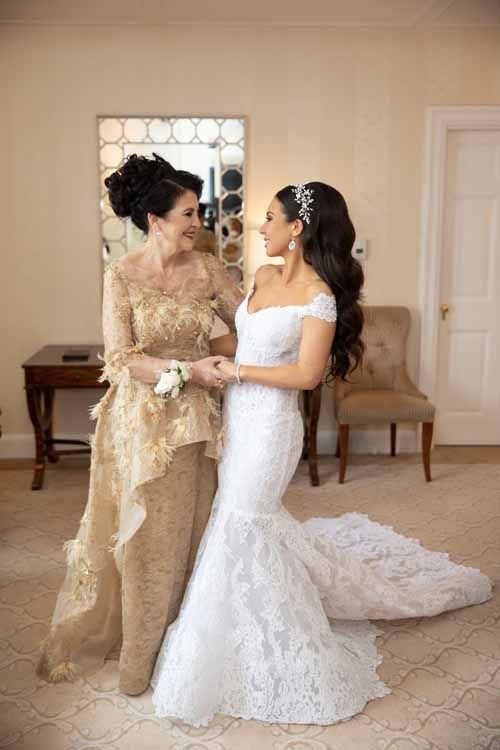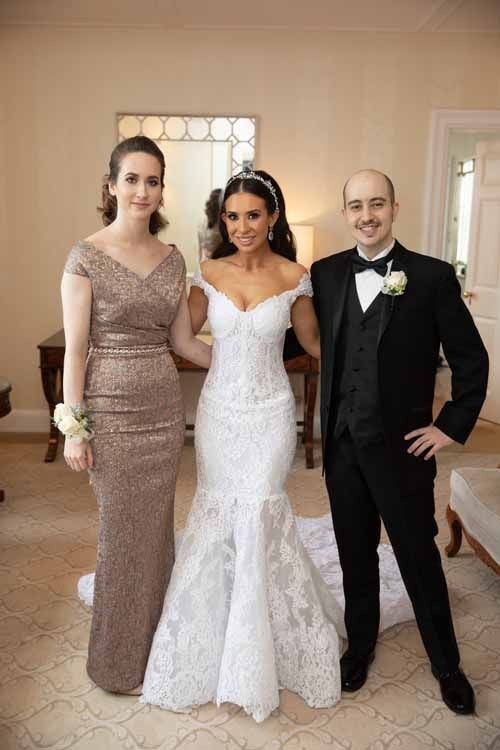 For hair I was fortunate enough to have Senada Zanki by my side to create a sleek and stylish hair look that made me feel like a princess! The weather wasn't the best that day, and Nada even made it a point to come to The Rockleigh to touch me up! The whole day, I felt like she was one of my girlfriends that I had known forever! Contact Nada at This email address is being protected from spambots. You need JavaScript enabled to view it.

Ceremony:
Given that our wedding took place on a Friday evening, we really wanted to make sure our guests could all be present for our ceremony. After all, the marriage is the most important part of the wedding! We originally had planned a beautiful outdoor ceremony on the gorgeous grounds of The Rockleigh, but God had other ideas! Due to some rainy weather, our ceremony was moved indoors. I'll admit that at first I was a little disappointed, but once the doors opened and I saw the ceremony room decorated in all its glory, my heart was so full! Maryla had transformed the entire room into a warm, cozy oasis. The chandeliers sparkled from the glow of candlelight, and as my father Vito walked me slowly down the aisle to the soothing sound of an acapella rendition of Ave Maria, all I could see was my future husband in front of our incredible flower wall! (The flower wall later doubled as a backdrop for our sweetheart table). I believe Monsignor Jamie Gigantiello said it best as he officiated, "Coincidence is just another word for fate."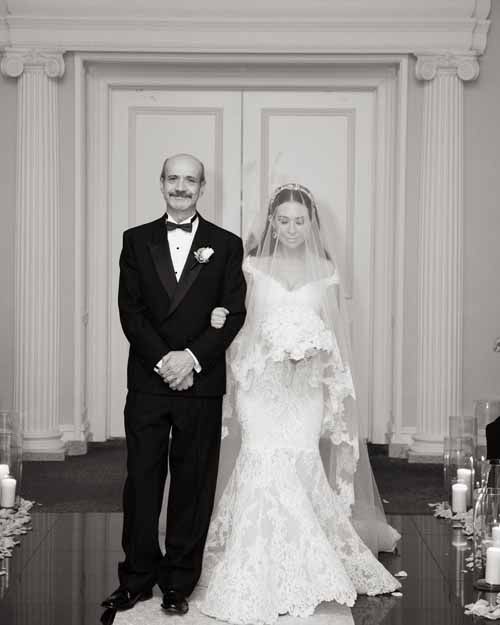 Traditionally untraditonal…
I always knew that I wanted my bridal party to be full of children! We were so fortunate to have 10 kids serve as our flower girls and ring bearers. Yes, I said 10! They ranged in age from 10 months to 9 years, and they were such a meaningful part of the wedding. In the months before the big day I was looking for a wedding wagon that our tiniest ring bearer could ride down the aisle, but wasn't having very much luck. In desperation I put out some feelers on my Instagram page, hoping someone knew where I could rent one. Thank goodness Luciana from La Bella Planning (link here: www.labellaplanning.com ) saw and reached out! She was so incredibly sweet and offered one of her gorgeous wedding wagons to me for my wedding day. Thanks to her, I was able to use the wagon for our rehearsal as well as the wedding and it was such a sweet touch!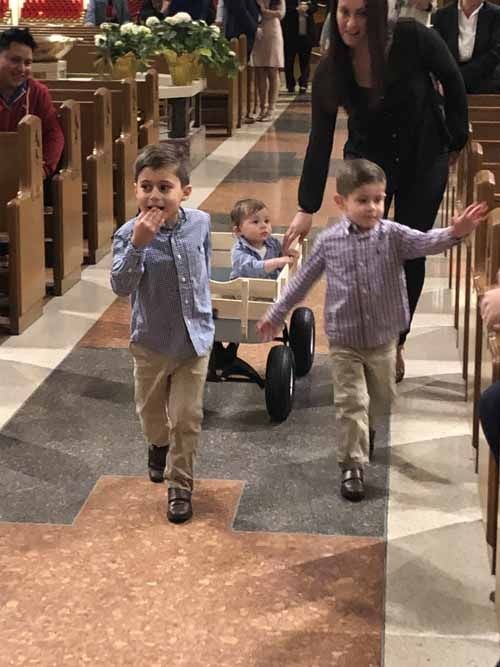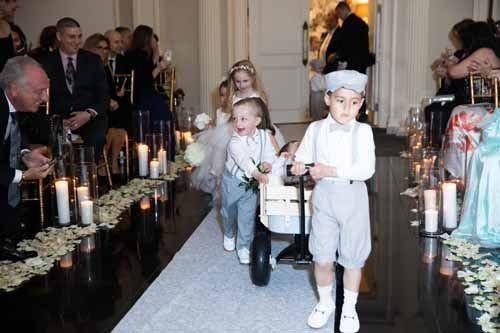 Everyone at the Rockleigh was super responsive, professional, and above all, warm. The entire staff seemed to understand that our wedding was truly about two Italian families coming together, and that meant that the menu was paramount. We were adamant about a pasta course before the entrée to help us achieve the classic Italian-American wedding feel. Most venues no longer offer a pasta course, but for us it wasn't even a choice because in Italian-American wedding culture if you don't do the pasta course people will talk about you for years to come. (You know who you are!) The Rockleigh was totally happy to oblige. Seeing as my husband and I are both in the food business, they were very understanding about what our menu had to live up to and Rockni was great at helping us work out all of our cocktail hour must-haves like the raw bar. My husband and I both hail from a fishing village in Puglia, Italy where raw seafood is a huge part of any celebratory meal, and the Rockleigh absolutely delivered. Almost every guest told me they gained 10 pounds at our cocktail hour, which was the greatest compliment you can receive about your wedding.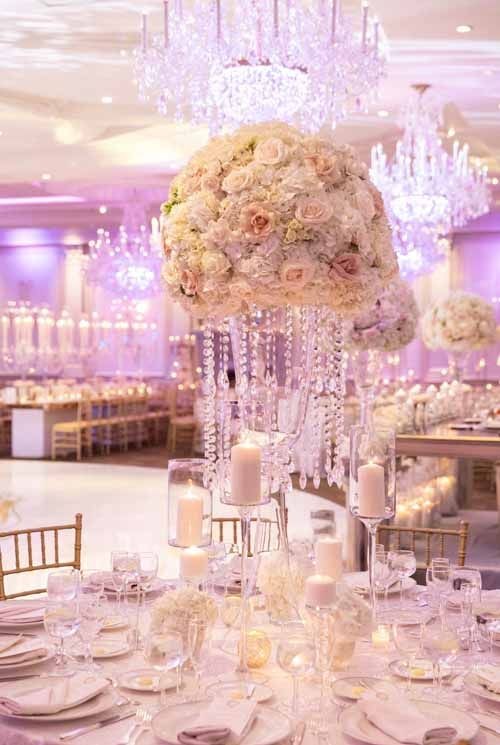 The ballroom offered a regal, beautiful palette for our romantic, simple décor. Our custom gold marble invitations set the blush, white and gold marble theme. We wrapped our dance floor in our custom gold marble monogram, rented white sequin tablecloths, which alternated with the gold marble tablecloths my mother hand-painted. Steven from Eltingville Florists dressed the longer tables with elaborate white and blush flower bridges and gold king tables filled with clear crystal candelabras, which added an extravagant, royal-wedding feel to the room. Even the staff at The Rockleigh commented on how different the room looked. It really meant so much to me because of all the hard work that was put in. Link HERE.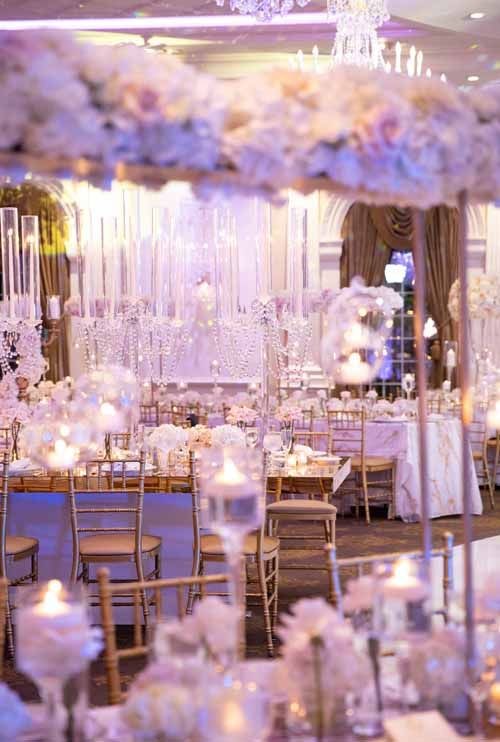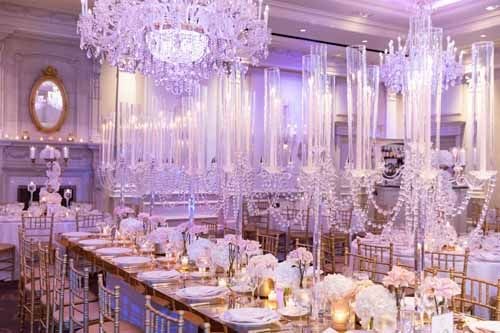 Steven from Eltingville Florists designed two different centerpieces, which alternated on the round tables and were both tall and beautiful! When I walked in and saw the room for the first time I was absolutely blown away! There were flowers everywhere!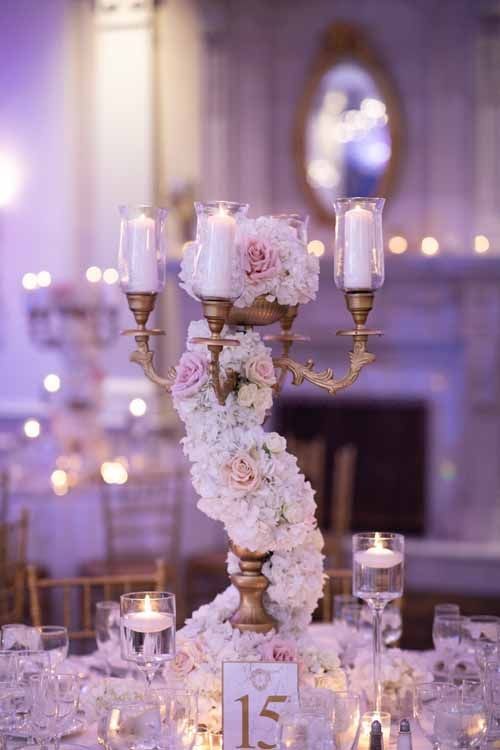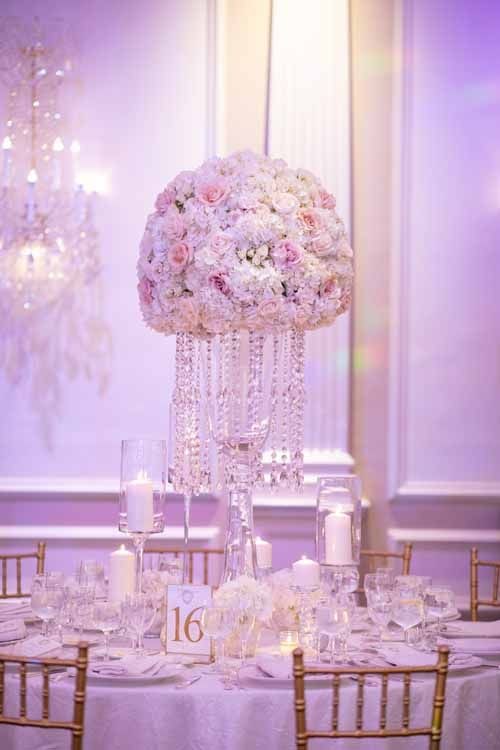 We decided to wrap our dance floor with the same monogram and gold and white marble design that we used on our invitations to continue the marble theme. This really helped tie the entire room together and Go To Shout did a tremendous job matching our monogram!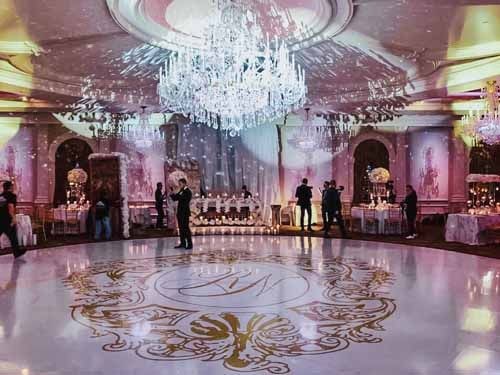 SI MANGIA!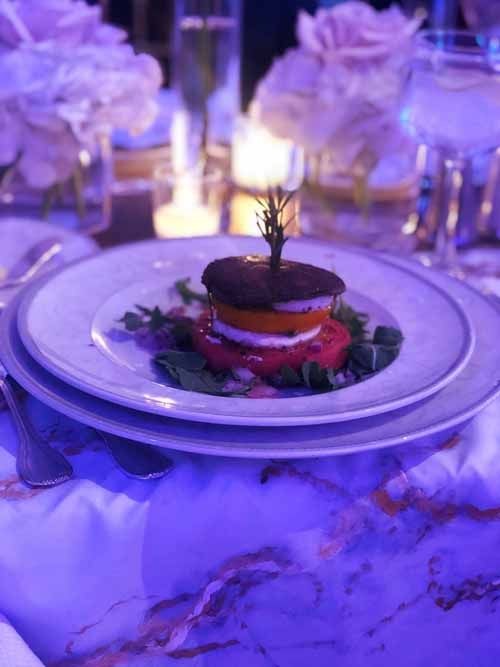 Our menu began with a Napoleon of beefsteak tomato portobello mushroom. Next came the pasta course, which we were determined to do differently with a beautiful, impressive little dish of timbale of anelletti baked with mozzarella. The entrees were a 10 oz. filet mignon, polenta and herb-crusted Asian sea bass, or chicken scaloppini. There was an abundance of food, which really set the tone for all the fun everyone had all night.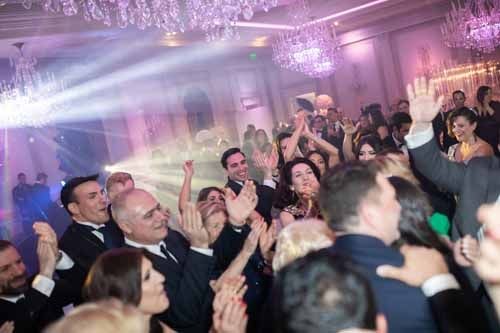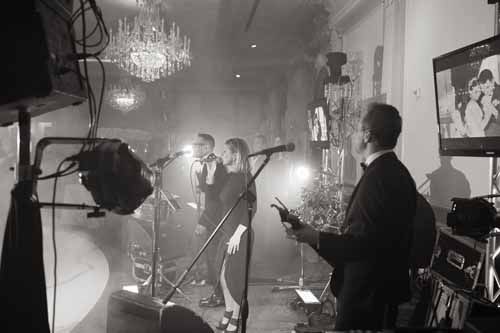 Rocking the house Italian Style!
We knew The Gio Venuto Band from community events in our neighborhood, and there was never any doubt that they were the right people to keep our guests on the dance floor. The night started with an Italian Tarantella to get everyone moving and ended with everything from top 40 to classic rock. Even a beautiful rendition of Sweet Child of Mine played as we cut into our five-tier gold marble cake. It was the sweetest end to our wedding, and the perfect start to our afterparty. Contact Gio at (646) 431-8786
Photo Booth Fun:
A great photo booth can really liven up things at your party! I couldn't have been happier with the super fun setup Shake and Share Media did for our wedding! Their sleek, modern design gave every photo such a glamorous feel and I was obsessed with the personalized props they created just for us! It really is the unique details that get everyone super excited to get up and have a great time! Link HERE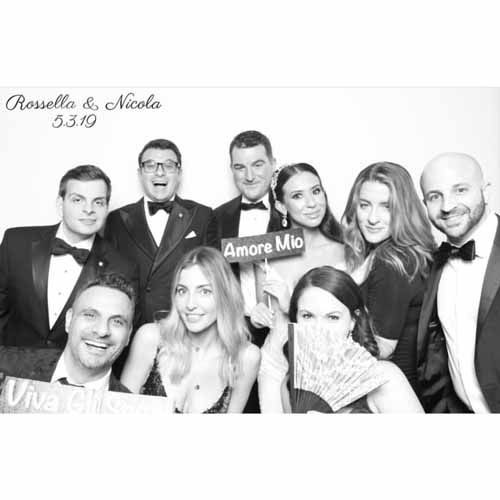 A sweet end…

When I envisioned my wedding cake, I knew it had to be as grand as our wedding. I trusted the one and only Maria from Maria's Cakes and Cookies to create a spectacular five-tier confection enrobed in golden marble fondant. Eltingville Florists painstakingly handed placed cream and white roses in between layers, creating a timelessly elegant show stopping piece! We opted for vanilla cake with strawberry mascarpone filling which fueled us up for a night of dancing! Contact Maria here: This email address is being protected from spambots. You need JavaScript enabled to view it.
We were also fortunate enough to have my amazing Emmy nominated friend Alfio give a special performance for our second dance. I first met Alfio at Festa Italiana in Milwaukee about 6 years ago, and when I heard him perform the classic Italian love ballad, Il Mondo, I jokingly asked him to sing that at my wedding. I was hopelessly single then, but he sure did remember! His performance added a beautiful touch to our wedding that I will never forget.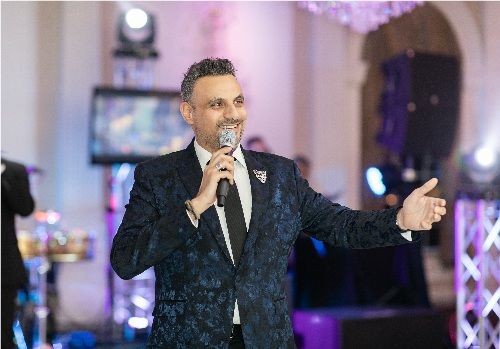 We arranged our night to end with an hour and a half afterparty that The Rockleigh calls Jazz n' Blues in lieu of the classic Viennese hour that most weddings have. The Rockleigh put out an incredible late night spread of cookies and milk, mini hot dogs, sliders, chocolate fountains, grilled cheese sandwiches, and so much more! Guests danced until the wee hours of the morning to a DJ who played hits from the 1980's and 1990's and to be honest, some of the most memorable moments with our friends happened during those magical hours.
Gelato is always a good idea.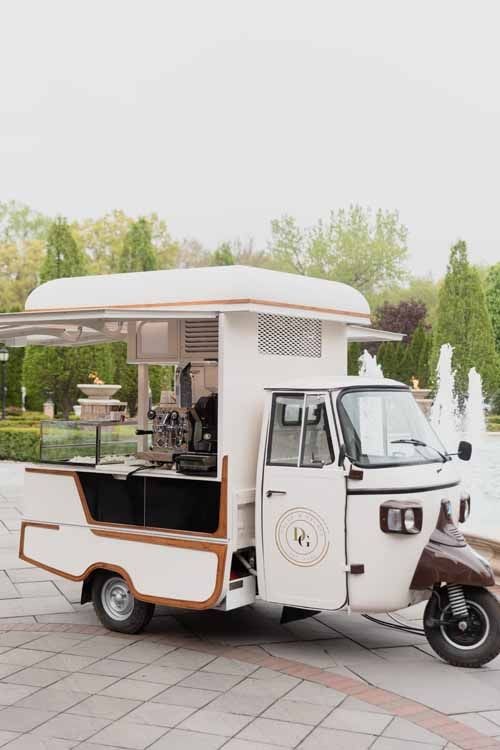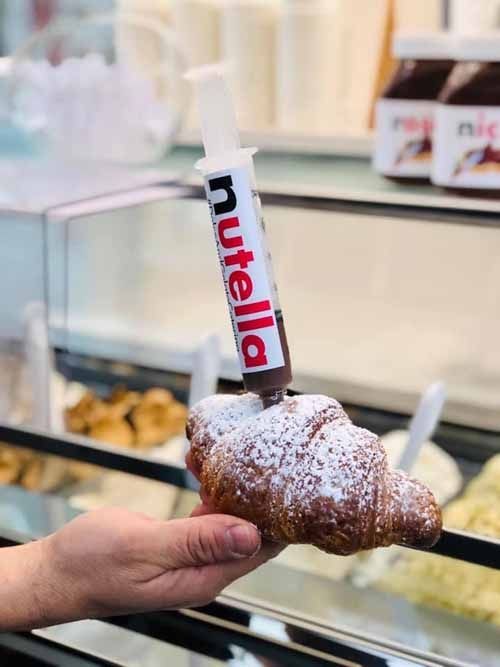 Maryla also suggested a gelato cart and espresso bar from Italy to give the wedding that super Italian feel. Gino from Dolce & Gelato Catering served our guests 14 flavors of gelato and croissants complete with Nutella injections off his Piaggio Ape from Italy, which made its first appearance at our wedding! The gelato cart accompanied a whiskey and cigar bar and in Gino's own words, "more espresso than I have ever served at any party ever in my life!" God bless him for giving that extra special Italian touch to our wedding day! He was even sweet enough to create a custom gelato flavor for my papá Vito and personalize Nutella jars with our names on them. Our guests are still talking about it! Link HERE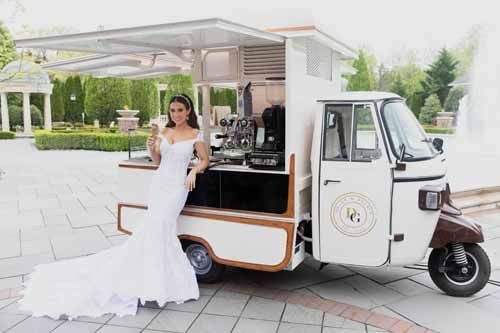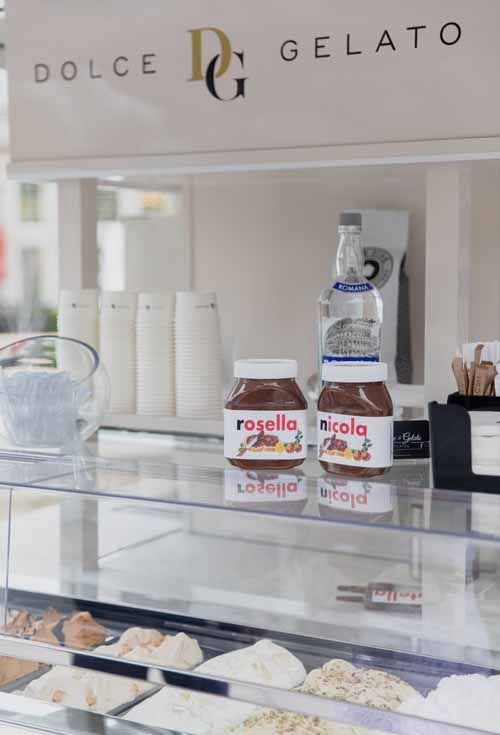 Our guests walked away with gorgeous custom ceramic pomi, which are the symbol of Puglia. We knew we wanted our favors to be different, personal, and reflective of our shared heritage. We were fortunate enough to find Carmine Daniello, who has a studio in Grottaglie, Puglia and he made us a collection of personalized white pomi.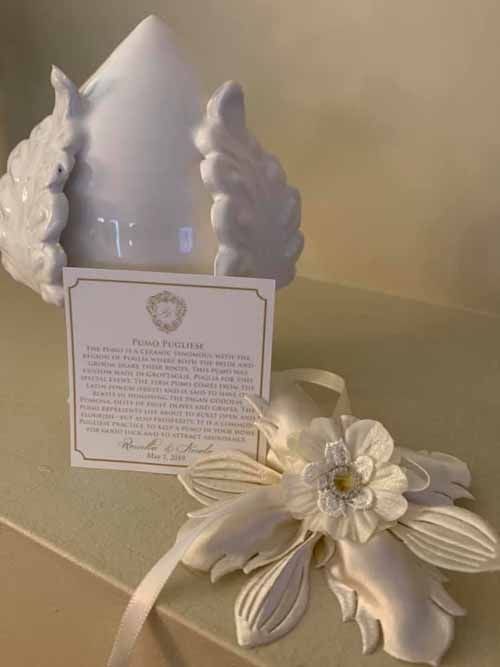 Calogero at Eleganz Plus was wonderful enough to beautifully wrap each individual favors in delicate white tulle and finish them off with the traditional confetti. We also asked Calogero to make us little cards that explained the significance of the pomo so everyone could learn a little more about them!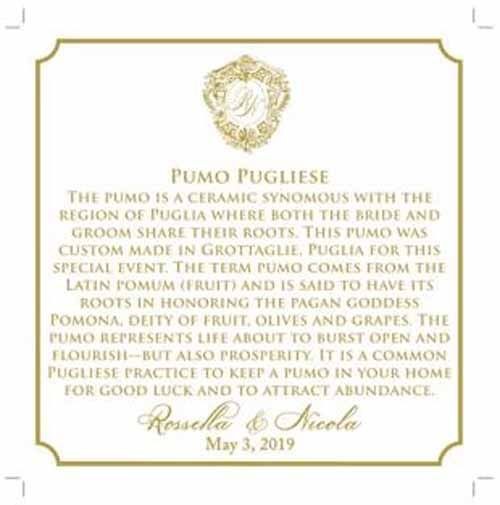 What are friends for?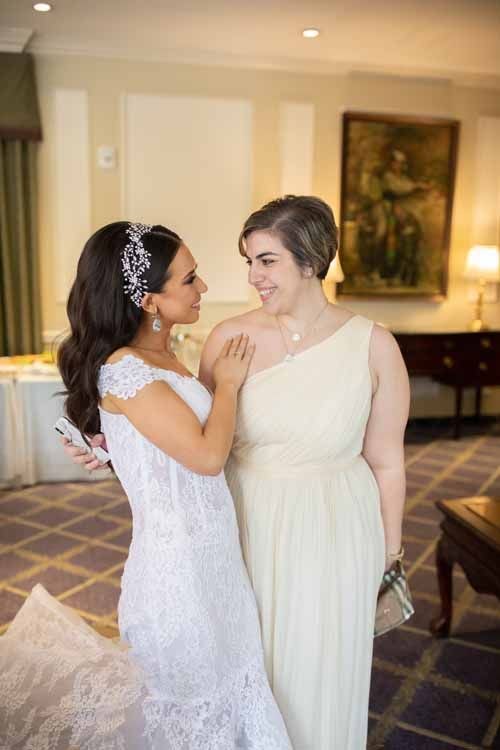 One tip I can give to all brides and brides-to-be is to absolutely put down your phone for the night! (Definitely not something super easy for me!) Make sure you hand your phone off to one of your bridesmaids or a trusted friend to document the night for you. I didn't have any bridesmaids, but luckily I had my wonderful friend, Francesca (I call her Saint Francesca because she's a total saint!) and she lovingly photographed and video'd absolutely everything for me the entire night! The next morning I woke up and almost cried looking at everything she had captured for me — it was truly such a special gift!

I hope you enjoyed this look into our wedding day! Thank you to each and every vendor that gave their all to make our wedding a once in a lifetime experience. My husband and I will cherish these memories for years to come!