Anelletti Pasta available HERE!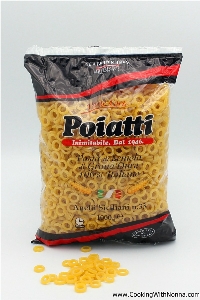 Put a large sauté pan over a medium flame and heat the oil.
Add the garlic and cook until golden and fragrant, about 1 minute.
Add the tomatoes and salt to the pan and bring to a boil. Lower the flame to a simmer and add the basil. Cook uncovered for 15 minutes.
Drop the pasta into a large pot of generously salted, boiling water. Cook 2 minutes leas than the package instructions and drain.
Add the pasta to the sauce and toss over high heat for 1-2 minutes.
Serve with plenty of grated Parmigiano reggiano Cheese.