Pasta della Nonna - Capunti Available HERE!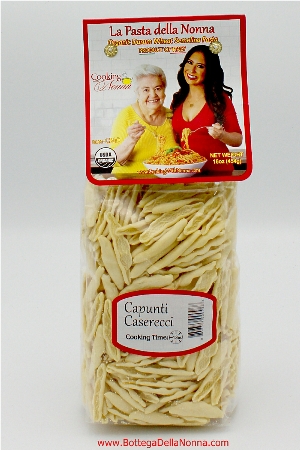 Put a large skillet over a high flame and heat the oil. Add the sausage and cook until browned, about 5 minutes.
Add in the pancetta and cooked until browned, about 5 minutes. Add in the wine and cook for 1 minute scraping up any bits that have stuck to the bottom.
Add in the garlic and red pepper flakes and cook until fragrant, about 30 seconds. Add in the tomato paste, passata and salt.
Bring the sauce to a boil and lower the heat to a simmer. Cook for 15-20 minutes while stirring occasionally.
Drop the pasta into a pot of salted boiling water. Cook 2 minutes less than the package instructions. Drain and add to the sauce and toss over high heat for 2 minutes.
Serve in warm bowls with a generous sprinkle of Parmigiano Reggiano Cheese.