Get the Products/Ingredients featured in this recipe HERE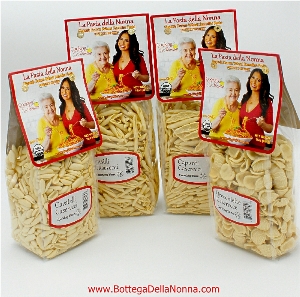 Place the lobster on a cutting board belly side up with the tail closest to you. With a large chefs knife or a cleaver cut the lobster in half lengthwise beginning at the head and and splitting down the tail. Separate the two the claws from the arms. Chop the arms in pieces and set aside.
Take the two halves, roughly chop them into 2 inch pieces and set them aside.
Put a large sauté pan over a medium-high flame. Add two tablespoons of the oil and let it get hot. Add all the pieces of the lobster to the pan meat side down and sear them until the meat is firm, about 5 minutes. Transfer the lobster pieces to a plate and set aside.
Drop the cavatelli into a pot of generously salted boiling water.
In the same sauté pan, add the remaining oil, the garlic and some red pepper flakes, as desired.
Cook the garlic until it just begins to turn golden, about 30 seconds. Add the tomatoes and let them cook for about 2-3 minutes.
Add the white wine to the and let the alcohol evaporate, about 2-3 minutes.
Add the juice from the clams and let it come to a boil. Add half of the parsley.
Add all the lobster pieces and let them cook for 2 minutes.
Add the clams and the shrimp to the pan. Cook until the shrimp have turned pink and the clams are firm, about 6-7 minutes. Taste for seasoning and add salt as desired.
Add the al dente cavatelli to the pan and toss for 2 minutes.
Add the rest of the parsley and serve.