Get your Lasagne Pasta HERE!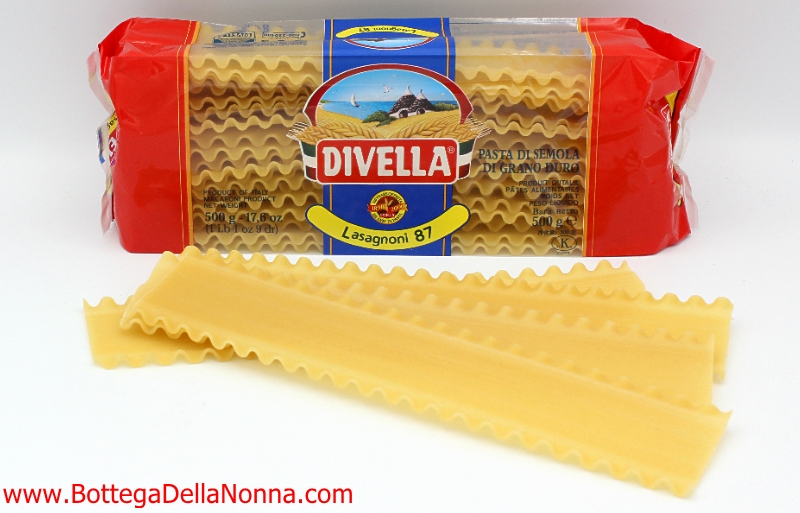 To make the sauce:
Put a large saucepan over a medium flame and heat the oil. Add the garlic and onions and cook until the onions are soft, about 5 minutes.

Add in the sausage and saute` while breaking it up with a wooden spoon. Cook the sausage until nicely browned, about 5-7 minutes.

Add the wine to the pan and cook until the alcohol is reduced, about 2 minutes.

Add the canned tomatoes and salt to the pan. Fill each of the cans about halfway with water and swish them around. Add the water to the pan as well.

Tear the basil leaves and add them in. Bring the sauce to a boil and lower the flame to low. Simmer for 20-30 minutes.

Remove from heat and set aside.
To make the meatballs:
In a large mixing bowl combine all the ingredients and mix with your hands until you have uniform mixture. Roll into meatballs about 1/2 inch in diameter.

Put a large saute` pan over a medium- high flame. fry the meatballs in batches until golden brown, about 1-2 minutes each. Transfer to a plate lined with paper towels. Set aside.
To make the Lasagne:
Bring a large pot of generously salted water to a boil. Cook the Lasagne pasta sheets about halfway through, about half the time of the package instructions.

Drain and run the pasta sheets under cold running water. Lay the pasta sheets flat on a baking sheet or hang them over a colander.
Assembly:
Preheat the oven to 400 degrees.

Spread 1 1/2 cups of the sauce at the bottom of a large Lasagne pan. Arrange a layer of Lasagne pasta sheets slightly overlapping one another, about 5 vertically and one horizontally at the bottom. Cut any pieces that do not fit.

Begin the layering by spreading about 1 cup of the sauce over the Lasagne pasta sheets and top with 1/3 of the meatballs. Next add about 1/4 cup of the mozzarella and 2 tablespoons of the grated cheese.

Repeat 2 more times. Top the 3rd layer of meatballs with a final layer of Lasagne pasta sheets, 1 1/2 cups of sauce and the remaining grated cheese.

Bake for 30 minutes. Add the remaining mozzarella and bake for an additional 10 minutes.