Get ALL the ingredients you need in La Bottega!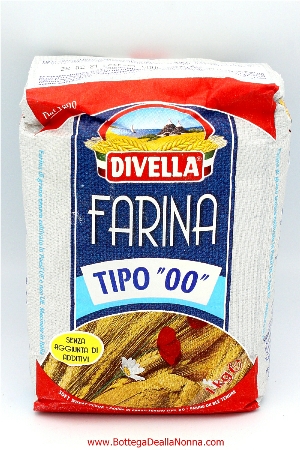 To make the Cake:
Preheat your oven to 350 degrees.
Spray a 10x15 inch pan with baking spray or grease with butter.
In a mixing bowl, whisk together the flour and baking powder. Set aside
Place the egg yolks, vanilla and sugar into a large mixing bowl. Beat with an electric mixer until fluffy, about 5 minutes. Set aside.
Place the egg whites into a large mixing bowl and heat with an electric mixer until stiff peaks form.
Fold the egg whites into the yolks and sugar.
Fold in the dry ingredients little by little until fully absorbed.
Pour into the prepared pan and bake until an inserted toothpick comes out clean, about 40-45 minutes.
Cool completely.
Cut the cake into squares or diamonds about 2" by 3".
Cut each cake in half an place about a teaspoon of jam in the center. Place each cake in a cupcake liner.
Prepare the Glaze:
Place the sugar and water in a sauce pan and bring to a boil over a medium flame, stirring occasionally. Once boiling, lower the flame to a simmer and cook until the sugar forms a line between your thumb and forefinger, about 30-40 minutes.
Remove from heat and do not touch or stir the mixture until completely cooled, about 1 hour.
Pour the lemon juice over the glaze and begin to stir quickly with a wooden spoon until the glaze turns white.
Place the glaze over a low flame once again to melt it down. Emerge the individual cakes in the glaze.
For the Raw Glaze:
In a mixing bowl, whisk together the confectioners sugar and milk until smooth. For thinner glaze add more milk. For thicker glaze add more confectioners sugar.
Dip each cake into the glaze.
Top with sprinkles. Place on a wire rack to dry.