Get your Italian Nutella HERE!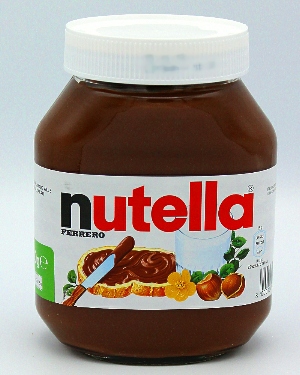 Cake Preparation:
Add one room temperature stick of butter into a stand mixer.

Add one jar of Nutella.

Mix the two into a creamy consistency.

Add 1/2 cup of chopped hazelnuts.

Add 6 egg yolks.

Add 2 Tbs of Grand Marnier.

Add the zest of one orange and the juice of 1/2 an orange.

Mix everything in the stand mixer for 2-3 mins.

Melt 1/2 cup of semi-sweet chocolate morsels.

Fold the chocolate into the cake batter.

In a large bowl put the 6 egg whites and a pinch of salt.

Beat the eggs with a hand mixer until the eggs turn into a fluffy foam.

Little by little add the egg whites to the cake batter and fold them into the batter.

Pour the batter into a 9" springform baking pan.

Bake fro 40 mins. at 350F.
Ganache Preparation:
In a pot, add 1/2 cup of heavy whipping cream and 2 Tbs. of Grand Marnier.

Bring everything to a boil.

Pour the hot heavy cream into another pot containing 1/2 cup of semi-sweet chocolate morsels.

Wait 3 mins. and start stirring until the chocolate morsels are completely dissolved.

Let everything cool for about one hour.

Pour the ganache over the cake and spread with a spatula.

Garnish with whole hazelnuts and orange zest curls.