Get the Products/Ingredients you need for this Recipe: HERE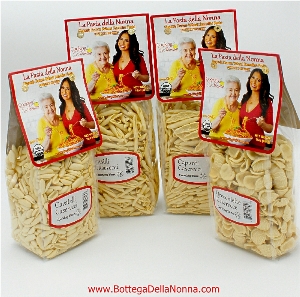 Put a large skillet over a medium-high flame and heat 2 Tablespoons of the oil.
Prick all the sausage links all over with a fork.
Add the sausage links to the pan and cook until browned on all sides, about 5 minutes. Remove to a plate and slice the links into 1/4 inch thick slices. The sausage may still be pink on the inside. Set aside.
Add the remaining oil to the pan and heat over a medium flame. Add the garlic, anchovies and red pepper flakes to the pan and cook until the garlic has become golden and the anchovies have melted, about 30 seconds.
Add the broccoli rabe and salt to the pan and cook until the leaves wilt, about 2-3 minutes. Add the sausage back to the pan along with any juices that have collected on the plate.
Add in the water and cover. Cool until the broccoli rabe is tender, about 5 minutes.
Drop the pasta into a large pot of generously salted boiling water. Cook until al dente.
Before draining scoop out a cup of pasta water and reserve in case the pasta is dry.
Drain the pasta and add it to the pan with the broccoli rabe and sausage. Toss for 1-2 minutes over a medium-high flame.
Remove from heat and stir in the Pecorino Romano cheese allowing the residual heat of the pan to melt the cheese.
Serve in warm bowls with an extra sprinkle of Pecorino!