Get authentic Sicilian Anelletti Pasta HERE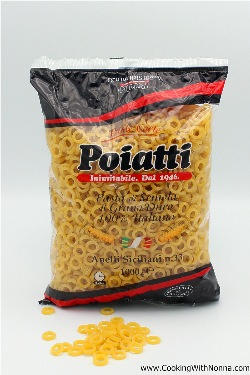 Wash the eggplants, remove the skin and slice them longway about 1/4" thick.
Coast each slice with olive oil, put them on a baking sheet and bake them for 10 mins at 350F. Set them aside.
Make the Ragu`:
In a pan, add a Tbs of olive oil and brown the ground meat. Discard any fat that is produced. Set aside.
In a pot, add 3 Tbs of olive oil and the onion sliced very fine.
Once the onion is translucent add the crushed ground meat.
Let the meat saute in the onion for a few minutes and add the peas followed by the crushed tomatoes and the basil. Add salt as desired.
Cover and let the Ragu cook for 20 mins at medium flame.
Boil the pasta to a very al dente consistency and run it under cold water.
Take a few spoons of the sauce and mix it in the pasta so that it does not stick together and set aside.
Take a 10" x 5" bundt pan and line it with slices of eggplant by laying each slice starting from the center of the pan so that a part of the slice will hang outside the external border of the pan.
Add a layer of pasta followed by a layer of the meat sauce, some grated cheese, a layer of mortadella and then a layer of mozzarella.
Repeat the layering process again.
once finished, flip over the content the part of the eggplant slices hanging from the pan.
Bake in a preheated oven at 375F for 30 mins.