Nonna Knives - Red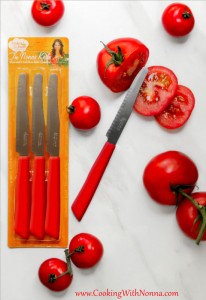 2 or more $9.99
4 or more $8.99

FREE Shipping! The Nonna Knives are Made in Italy - Each set contains 6 ultrasharp stainless steel knives with a red handle and serrated blades that last forever! They make excellent gifts for yourself or the foodie friends in you life all year round. These knives are perfect for peeling vegetables, chopping garlic, cleaning fruit, slicing bread and most of all for creating texture on fresh pasta.
These little knives are the best! I first ordered them, because my Italian in-laws had some red-handled knives, and it was a sweet memory of them for me. Cooking was a big part of their lives. These knives are light but sharp. We even use them for steak! Great price, too.
I own two sets and have given several sets as gifts. Great knives, sharp, lightweight, never dull. Do not put these in the dishwasher. Caught my hunny trying to throw them in there but that is not good.
I love these knives! I use mine everyday! They are great!
I have ordered 3 sets of these and I love them. I have friends and family who always tell me these knives are so awesome. They work great on veggies, meats and even bread. I use them for everything. Orrechetti turns out great using these knives.
Love,love,love these knives. I got the red ones. Great value. Use them for everything! My grandchildren like to cook with me, so these are great for them, and the red is fun.