Crusty Olive Bread
Super easy to make, beautiful crusty artisan bread with olives.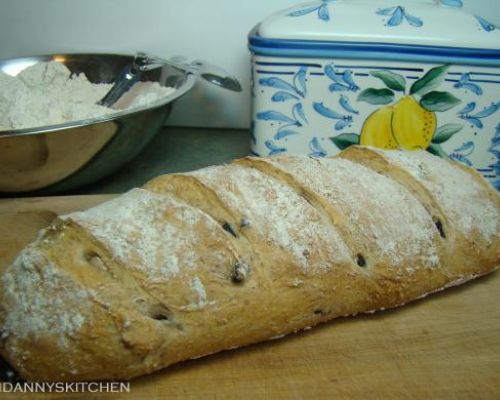 Ingredients
For 3 Batch(es)
For the Bread:
4

cups

all purpose flour

2 1/2

cups

whole wheat flour

1 1/2

tablespoons

salt

1/2

tablespoons

instant yeast

3

cups

warm water

3/4

cups

chopped Kalamata olives or other ingredient (peppers etc...)
Directions
In a large container add salt, yeast and warm water then gently stir together.

Now add all purpose and whole wheat flour.

Add pitted and chopped olives and begin gently mixing with a sturdy spoon until a dough forms and no dry flour is visible.

The dough will form quickly and become stiff.

No kneading is necessary!

Cover with a lid and refrigerate for 2 hours or use the next day.

Pre heat your oven to 375f and place a metal pan on bottom shelf.

Meanwhile remove dough from refrigerator and take a piece of large enough to make a loaf (a good handfull).

Sprinkle with flour and gently form a round or long loaf.

Place on a baking sheet lined with parchment paper and sprinkle paper with flour.

Allow loaf to rise for 35 minutes while oven is pre-heating.

After the loaf has risen, sprinkle it with a little more flour and score some lines or an X about 1 inch deep across the top.

The flour keeps your knife from sticking to the dough and also helps achieve the nice color when baking.

Place loaf in the oven on a middle rack and pour 2 cups of water in the hot pan below it. Quickly close the oven door.

Bake bread for 40 -60 minutes, depending on size of loaf or until it becomes golden brown and crispy.

Once bread has cooled slightly it is ready to enjoy.

Eat it on its own, buttered or top with your favorite ingredients.
Recipe Notes
Experiment and add ingredients like roasted peppers or garlic, cheese etc...
Reviews
Friday, 17 April 2020
ABSOLUTELY AMAZING .. MAKING IT AGAIN
- MARIANNABA74
Thursday, 14 December 2017
I made this rustic bread with kalamata olive pieces and sauteed weet onions. Yummmmmy.
- Debra-Bevilacqua@comcast.net
Thursday, 14 December 2017
Great bread recepie. Moist and delicious.I do let mine rise for two hrs. In bucket before putting li...
See Full Review >>
- jutka
Thursday, 14 December 2017
I started this yesterday and baked it off today. The only thing I changed was that I let it rise for...
See Full Review >>
- ReneeZ
Thursday, 14 December 2017
Dio santo this bread did not last half day next time I\'ll make 2 its worth it Thank you Nonna and R...
See Full Review >>
- Cesare