Apple Ciambella with Almond Cream
Apple Ciambella with a velvety Almond Cream!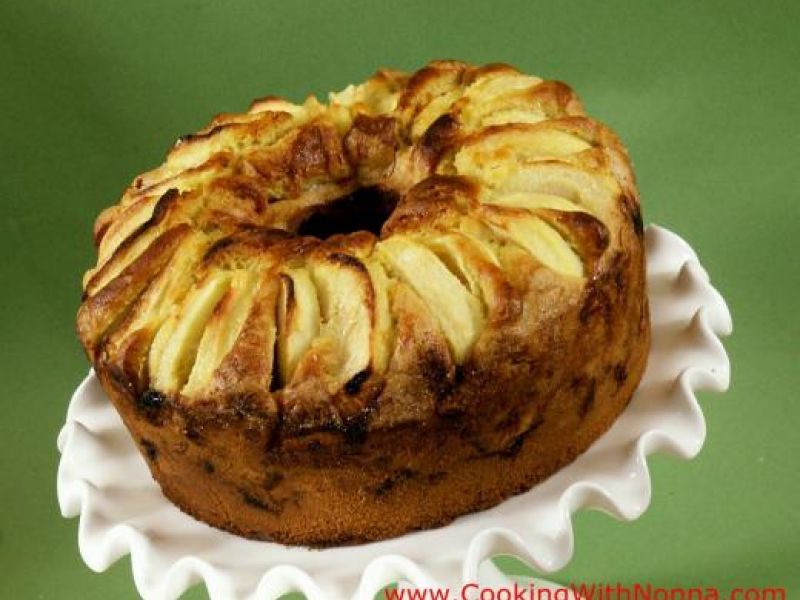 Ingredients
For 10 Person(s)
For the Ciambella:
1

pound

flour

5

apples of your choice

1

cup

sugar

4

teaspoon

baking powder

1

cup

olive oil

5

large eggs

1

lemon, zest only

pimch

of cinnamon

butter
For the Almond Cream:
16

ounces

Mascarpone cheese

1

cup

sliced toasted almonds

3

tablespoons

sugar

1

lemon, zest only
Directions
Preparation for the Ciambella:

Pre-heat the oven at 400F.

You can use a large glass bowl and an electric beater to do your mixing or you can use a Stand Mixer.

Add the eggs and beat them well.

Add the baking powder and mix well into the eggs.

Add the olive oil and mix well.

Add the lemon zest and the cinnamon and mix well.

Add the sugar and mix well.

Little by little add the flour and mix until the flour is totally absorbed into the liquids. The mix should be semi-soft. Put aside.

Peel the apples and slice them into half moon about 1/4 inch thick. Squeeze the juice of a lemon on the apple slices to prevent oxidation and give then an extra kick.

Take a 10" Angel Food Cake Pan and grease with butter the bottom and the sides.

Pour half of the mix into the pan and make sure that it is evenly distributed.

Add a row of apple slices on the surface of the mix to cover the entire mix.

Add the remaining mix to the pan and level it.

Position apple slices on to with each slice overlapping half of the preceding slice.

Sprinkle sugar over the entire top of the Ciambella.

Bake the Ciambella for 60 minutes.

Preparation for the Almond Cream:

In a high speed food processor add the almonds and the sugar and process for about 3 minutes.

Add the mascarpone and the lemon zest and process until you have a smooth cream (about 1 min.)

Serving:

Slice the Ciambella and serve with a scoop of Almond Cream.

Garnish with fresh mint.
Categories:
Nonna Romana Sciddurlo
,
Dessert & Cookie Recipes
,
Puglia Recipes
,
Easy Recipes
,
All Recipes
,
Christmas Recipes
,
Thanksgiving Recipes
,
Easter Recipes
,
Valentine's Day Recipes
,
Super Bowl Recipes
,
Mother's Day Recipes
,
Father's Day Recipes
,
Memorial Day Recipes
,
4th July Recipes
,
Labor Day Recipes
,
Easter Cakes and Cookies
,
Valentine's Cake and Cookie Recipes
,
Cakes and Pies Recipes
,
Summer Dessert Recipes
,
Vegetarian Dessert Recipes
,
Mediterranean Diet Dessert Recipes
,
Thanksgiving Dessert Recipes
,
Almond Cookie and Dessert Recipes
Reviews
Thursday, 14 December 2017
It would be helpfull if the flour would be in cups & Not Pounds. How accurate can i measure cups...
See Full Review >>
- La Signora
Thursday, 14 December 2017
Can I use almond paste (and how much), in place of the almond in the food processor. Anyone know? Ju...
See Full Review >>
- mmanocc
Thursday, 08 September 2016
For all purpose flour, use 3 and 1/3 cups for 1 lb. For cake flour use 4 and 1/2 cups for 1lb. I h...
See Full Review >>
- Angela lombardi
Thursday, 08 September 2016
I am going to make it soon.My mom is Germany and my dad is Italian so I really like to make this cau...
See Full Review >>
- ampollera