Cartellate di Primavera
Spring - Summer Cartellate... crispy and chilly... with a variety of flavors!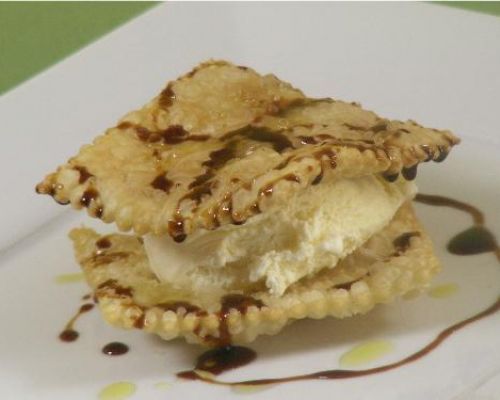 Ingredients
For 3 Dozen(s)
For the Cartellate:
3

cups

all purpose flour

1

cup

dry white wine

1/4

cup

olive oil

1/2

cup

Vin Cotto (made from figs)

olive oil gelato or if not available use Vanilla Gelato

oil for frying
Directions
In a KitchenAid Stand Mixer bowl, add the olive oil and the wine and mix the two. Add the flour and continue to mix until the flour and the liquids are completely amalgamated and the dough is firm.

Cut a handful of the dough and pass it thru the pasta roller set at 3 until you have a flat and long strip of dough about three inches wide and ten inches long. Lay the strip on a wood board and with a ravioli cutter cut it in squares of 2 x 2 inches.

With the teeth of a fork, puncture each square several times so that when you fry them they will not swell.

Fry all the Cartellate until light golden.

Place them in a plate lined with paper towels to absorb the excess oil. Set aside to cool.

To serve... put one Cartellata in a serving plate and add on top a scoop of EV Olive Oil Gelato. Cover the Gelato with another Cartellata and garnish with a drizzle of Vin Cotto and a few drops of EV Olive Oil.
Recipe Notes
If you have extra Cartellate, they can be stored in an airtight container and will stay fresh and crispy for several months!
Categories:
Dessert & Cookie Recipes
,
Baking with Rossella
,
Puglia Recipes
,
Easy Recipes
,
All Recipes
,
Easter Recipes
,
Valentine's Day Recipes
,
St. Joseph Day Recipes
,
Mother's Day Recipes
,
Father's Day Recipes
,
Memorial Day Recipes
,
4th July Recipes
,
Labor Day Recipes
,
Easter Cakes and Cookies
,
Valentine's Cake and Cookie Recipes
,
Pastry and Tart Recipes
,
Summer Dessert Recipes
,
Vegetarian Dessert Recipes
,
Mediterranean Diet Dessert Recipes