Limoncello Mousse
A luscious, light as air dessert made with Limoncello, mascarpone and white chocolate.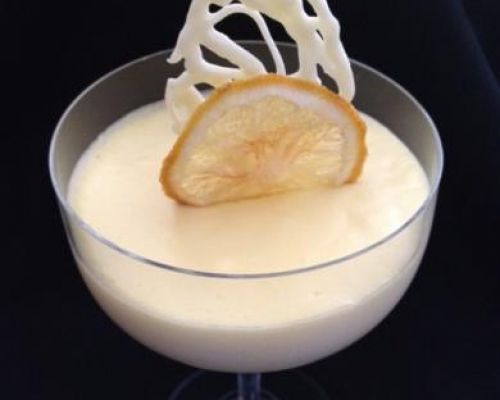 Ingredients
For 8 Person(s)
For the Mousse:
1/3

cup

sugar

1/3

cup

water

8

ounces

white chocolate

2

tablespoons

unsalted butter

1

cup

mascarpone cheese

6

egg yolks

1

lemon, zest only

1

cup

whipping cream
Directions
Add water and sugar to a pot .

Bring to a boil for 3 minutes.

Beat egg yolks until fluffy and begin to lighten in color.

While beating eggs slowly add sugar and water mixture, beat for 1 minute.,

Melt white chocolate and butter together until smooth.

The chocolate should cool slightly and slowly be added to the egg mixture.

Add 2 oz of Limoncello, stir until well mixed.

Fold mascarpone into chocolate mixture.

Beat whipping cream until it is light and fluffy with stiff peaks.

Fold whipped cream and lemon zest into chocolate mascarpone mixture until well blended.

Pour mixture into ramekins or glass of your choice.

Refrigerate a minimum of 6 hours, preferably over night.

Garnish with some white chocolate and candied lemon or fresh berries and mint.
Recipe Notes
*** SEE FULL RECIPE DESCRIPTION AND PHOTOS in "The Stories".
Categories:
Dessert & Cookie Recipes
,
Intermediate Recipes
,
All Recipes
,
Christmas Recipes
,
Thanksgiving Recipes
,
Easter Recipes
,
Valentine's Day Recipes
,
Mother's Day Recipes
,
Father's Day Recipes
,
Valentine's Cake and Cookie Recipes
,
Custard, Pudding and Mousses
,
Summer Dessert Recipes
,
Thanksgiving Dessert Recipes