Banana Ciambella with Nutella Mousse
A Banana Ciambella with a Nutella Mousse frosting.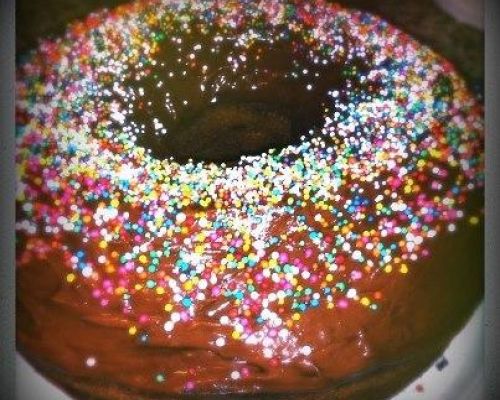 Ingredients
For 15 Person(s)
For the Ciambella:
1

pound

all purpose flour

4

large ripe bananas

1

cup

sugar

4

teaspoon

baking powder

1

cup

olive oil

5

large eggs

of 1 large lemon

pinch of cinnamon

butter
For the Mousse:
1

Jar of Nutella (375 Gr.)

8

ounces

mascarpone cheese
Decoration:
1/4

cup

multicolored sprnkles
Directions
Get your Italian Nutella

HERE!

Preparation for the Ciambella:

Pre-heat the oven at 400F.
You can use a large glass bowl and an electric beater to do your mixing or you can use a Stand Mixer.
Add the eggs and beat them well.
Add the baking powder and mix well into the eggs.
Add the olive oil and mix well.
Add the lemon zest and the cinnamon and mix well.
Add the sugar and mix well.
Little by little add the flour and mix until the flour is totally absorbed into the liquids. The mix should be semi-soft. Put aside.
Slice the bananas in slices of about 1/4 inch thick. Squeeze the juice of a lemon on the banana slices to prevent oxidation and give then an extra kick.
Take a 10" Angel Food Cake Pan and grease with butter the bottom and the sides.
Pour half of the mix into the pan and make sure that it is evenly distributed.
Add a generous row of banana slices on the surface of the mix to cover the entire mix.
Add the remaining mix to the pan and level it.
Bake the Ciambella for 60 minutes.
Let it cool and place it on a serving plate.

Mascarpone Mousse:

Pour the mascarpone cheese in a stand mixer.

Add the Nutella.

Mix everything for 2-3 minutes.

Decoration:

With a spatula spread a generous coating of Nutella Mousse over the Ciambella.

Spread the multi colored sprinkle over the Mousse and serve.
Categories:
Dessert & Cookie Recipes
,
Baking with Rossella
,
Easy Recipes
,
All Recipes
,
Christmas Recipes
,
Easter Recipes
,
Valentine's Day Recipes
,
Super Bowl Recipes
,
Nutella Recipes
,
Mother's Day Recipes
,
Father's Day Recipes
,
Memorial Day Recipes
,
4th July Recipes
,
Labor Day Recipes
,
Valentine's Cake and Cookie Recipes
,
Rossella Nutella
,
Cakes and Pies Recipes
,
Summer Dessert Recipes