Mamma Angela's Tiramisu`
Mamma Angela's Tiramisu`, a very light alternative to the traditional Tiramisu`.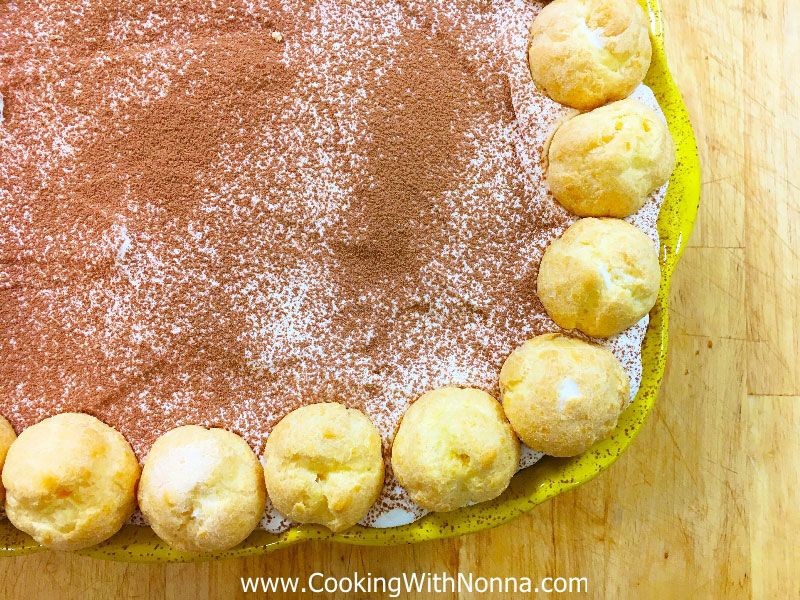 Ingredients
For 10 Person(s)
For the Custard Cream:
1

Batch of Custard Cream (see recipe link below)
For the Whipped Cream:
2

cups

heavy whipping cream

2

tablespoons

confectioners sugar

1

packet Italian Vanilla powder, or 1 teaspoon vanilla extract
For the Coffee Mix:
1 1/2

cups

brewed espresso coffee

2 1/2

cups

whole milk
For the Tiramisu`:
50

lady finger cookies or Savoiardi (I used about 16 per layer and made 3 layers in a 9x13 inch pan)
For the Topping:
unsweetened cocoa powder as desired

cream puffs to decorate - my mamma always used store bought but you can also use any cookies or fruits to decorate
Directions
To Make the Custard Cream:

Get the recipe

HERE!


To make the Whipped Cream:

In a large mixing bowl add the confectioners sugar and vanilla to the heavy cream and beat with an electric mixer until stiff peaks form. Add 1/4 of the whipped cream to the custard cream and fold until well combined. Set aside.

To assemble:

In a bowl combine the espresso coffee and milk and mix to combine.

Dip each lady finger cookie into the coffee mixture and lay them into a 9x13 pan (I used a glass Pyrex) break the cookies to fit them in if necessary. I did two rows of 6 cookies vertically and two rows of 2 cookies horizontally, but just make sure the cookies fit nicely together.

Spoon 1/2 of the whipped cream over the first layer of cookies.

Add the second layer of cookies and spoon all of the custard mixed with whipped cream over them.

Add the third layer of cookies and cover with the remaining whipped cream.

Dust with the unsweetened cocoa powder as desired and decorate with the cream puffs.

Refrigerate for at least 4 hours or overnight. Serve chilled.
Reviews
Saturday, 23 June 2018
wondering if 3 cups espresso to 1/4 cup of milk is correct. The video stated more milk to coffee
- marvin