Lucy's Sweet Arancine
Sweet Arancine... traditional Sicilian Arancine trasformed into a delicious dessert.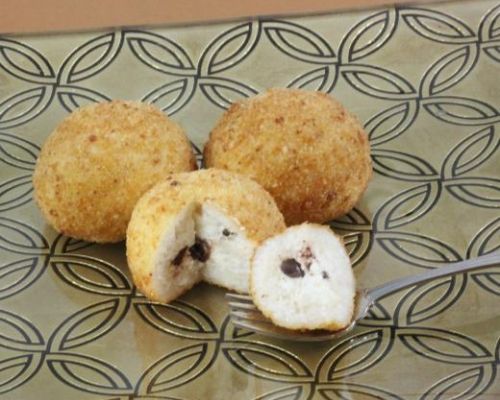 Ingredients
For 7 Person(s)
For the Rice Balls:
1

cup

Arborio rice

1

cup

water

1

cup

milk

1/2

pound

sugar

1

teaspoon

vanilla extract

1

tablespoon

unsalted butter

1

egg for the egg wash

plain bread crumbs

oil for frying
For the Filling:
1 1/2

pounds

ricotta impastata or drained ricotta

1/2

cup

sugar

1

teaspoon

vanilla extract

1/2

cup

chocolate chips
Directions
Get the Arborio Rice

HERE

Make the Rice:

In a large pot, add the water, the milk, the vanilla extract and the sugar. Let the water/milk boil and add the rice.

Stir the rice continuously until it is cooked. You do not want it too al dente but not too soft either. If during the cooking process the rices gets dry add a little hot water.

Let the rice get lukewarm and add the butter. Fold the butter well into the rice and set aside to completely cool off.

Make the Filling:

Mix the Impastata with the sugar.

Pass the entire content through a sieve so that you obtain a very creamy mix.

Add the vanilla extract and mix well.

Fold in the chocolate chips.

Make the Arancine:

In the palm of your hand, put a lump of rice of about the size of a baseball.

With your finger make a hole into the rice and add some of the filling. Close the hole with the rice and roll it into a ball.

Dip the rice ball into the egg wash and then roll it into the bread crumbs.

Deep fry the rice balls until they turn golden.
Recipe Notes
The Sweet Arancini can also be filled with a Nutella Mousse... how sweet!
Categories:
Dessert & Cookie Recipes
,
Sicilian Recipes
,
All Recipes
,
Christmas Recipes
,
Thanksgiving Recipes
,
Easter Recipes
,
Valentine's Day Recipes
,
Super Bowl Recipes
,
Mother's Day Recipes
,
Father's Day Recipes
,
4th July Recipes
,
Easter Cakes and Cookies
,
Valentine's Cake and Cookie Recipes
,
Pastry and Tart Recipes
,
Summer Dessert Recipes
,
Thanksgiving Dessert Recipes
,
Arancine - Rice Ball Recipes