Cream Puffs
Cream Puffs, as easy as 1..2..3 with vanilla whipped cream.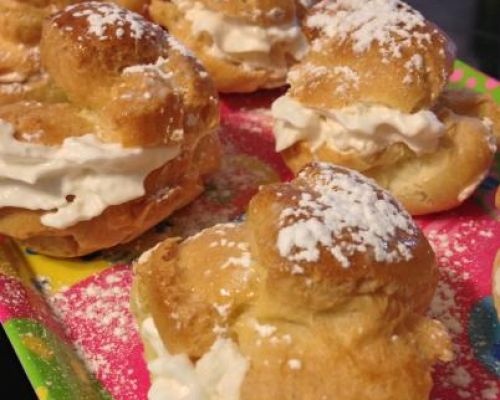 Ingredients
For 2 Dozen(s)
For the Cream Puffs and Cream:
2

cups

heavy cream

1

teaspoon

vanilla extract

4

tablespoons

confectioners sugar

1

cup

water

4

ounces

butter (1 stick)

1

cup

flour

1/3

teaspoon

salt

4

large

eggs
Directions
To make cream:

Add heavy cream to bowl and whip with whisk.

When cream starts to thicken add vanilla then whisk until fluffy.

Add confectioners sugar and whisk until all is incorporated.

Place cream in pastry bag* and pipe into cooled cream puffs.

To make pastry:

Add water and butter to a saucepan.

Heat on stove until butter melts.

Add salt and flour.

Mix with wooden spoon until dough forms a ball.

Transfer dough to stand mixer.

Using beater blade, beat eggs into dough one at a time.

Transfer dough to a pastry bag* with plain tip.

Squeeze out about one tablespoon of dough onto parchment paper lined sheet.

Wet finger and smooth point on each puff.

Bake in preheated 425° oven for about 22 minutes or until golden brown.

Let cool then slice open and fill with cream.

Sprinkle confectioners sugar on top.
Recipe Notes
You can use a ziplock bag with bottom corner cut off in place of a pastry bag. For all of you chocolate lovers, you can dip the top of each puff into a chocolate ganache.
Categories:
Dessert & Cookie Recipes
,
Easy Recipes
,
All Recipes
,
Christmas Recipes
,
Thanksgiving Recipes
,
Easter Recipes
,
Mother's Day Recipes
,
Father's Day Recipes
,
Christmas Cookies Recipes
,
Easter Cakes and Cookies
,
Valentine's Cake and Cookie Recipes
,
Pastry and Tart Recipes
,
Summer Dessert Recipes
,
Vegetarian Dessert Recipes
,
Thanksgiving Dessert Recipes
,
Cream Puffs Recipes
Reviews
Thursday, 26 April 2018
Delicious
- Sanny
Thursday, 14 December 2017
Im nervous to try this. Would love to see a Video ..youtube?? :)
- Maram
Thursday, 14 December 2017
I add the eggs right out of the pot. Mine rose perfectly however I only cook for 19 min. The icing i...
See Full Review >>
- Angie_Blonde
Thursday, 08 September 2016
So sorry but this recipe turned out a failure. The dough was pancake batter consistency and therefor...
See Full Review >>
- Adrienna
Thursday, 08 September 2016
I use the same recipe for the dough. It is excellent. a few tips for those who didn't do so well. Do...
See Full Review >>
- mvanzilen1