Lemon Ricotta Zeppole filled with White Chocolate Pastry Cream
Lemon Ricotta Zeppole filled with White Chocolate Pastry Cream
These delicious Zeppole are super easy and require no rising! You can fill them with some white chocolate pastry cream or even dip them if you don't feel like filling each one. These will make a bright and yummy dessert everyone will love this summer! I chose to roll them in lemon sugar, but you can also just dust them with some confectioners sugar for just a hint of extra sweetness!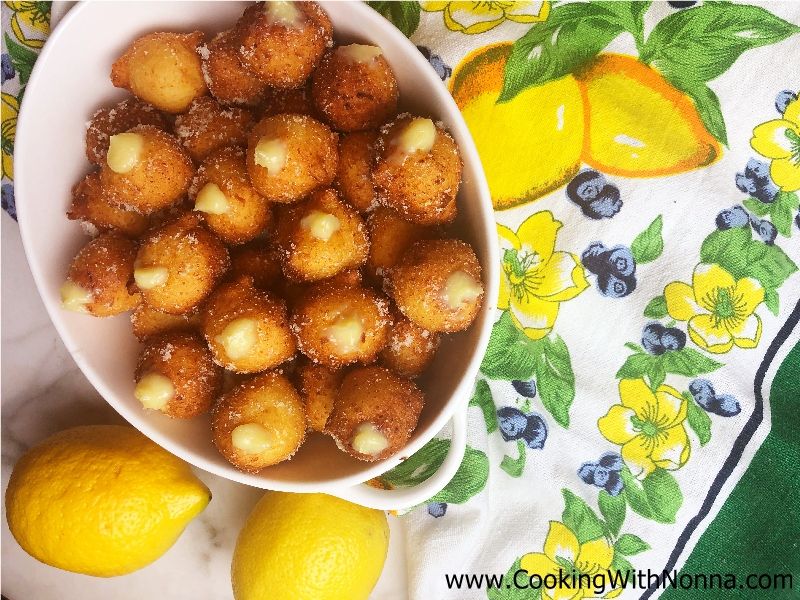 Ingredients
For 4 Dozen(s)
For the lemon sugar:
1

cup

granulated sugar

1

lemon, zest only
For the White Chocolate Pastry Cream:
1 3/4

cup

whole milk

1/4

cup

heavy cream

3/4

cup

granulated sugar

6

tablespoons

corn starch

1

teaspoon

vanilla extract

5

egg yolks

6

ounces

white chocolate chips
For the Lemon Ricotta Zeppole:
10

ounces

whole milk ricotta

2

large eggs

2

teaspoons

vanilla extract

2

lemons, zest only

3

tablespoons

granulated sugar, plus more for rolling the zeppole

1 1/2

cups

00 or all purpose flour

1/4

teaspoon

salt

2

teaspoons

baking powder

olive oil for frying
Directions
To make the lemon sugar:

Add the sugar and lemon zest to a food processor and process for 1 minute. Pour into a shallow dish for rolling.

To make the White Chocolate Pastry Cream:

In a bowl, mix the milk, heavy cream, the beaten egg yolks and the vanilla.
In a pot, add all the dry ingredients and mix well.
Put the pot on the stove at medium heath and add the milk mixture. With a wooden spoon start mixing continuously.
Add the lemon peel and continue to stir non-stop.
After about 7-8 minutes, the mix will begin to thicken and form a cream.
Once it reaches the desired cream consistency, remove the pot from the flame, remove the lemon peel and stir in the white chocolate until melted.
Pass the cream through a fine mesh strainer into another bowl to remove any lumps. Press plastic wrap into the entire surface of the cream to prevent a skin from forming. Cool to room temperature.

To make the Zeppole:

In a large mixing bowl whisk together the ricotta, eggs, vanilla, lemon zest and sugar until smooth.
Whisk in the flour, salt and finally the baking powder until you have a smooth batter. Set aside.
Put a 5 quart heavy bottomed stock pot over a high flame and heat about 3 inches of oil. You want your oil to be just under 350 degrees, you can use a thermometer if you like.
Fill a small glass or bowl with some oil as well
As soon as the oil is hot dip a small ice cream scoop in the glass of oil first and then begin dropping scoops of batter into the hot oil. Fry in batches until golden brown, about 1-2 minutes each. Transfer to a paper towel lined plate.
Roll the Zeppole in the lemon sugar and transfer them to a plate.
Fill a Pastry bag fitted with a small tip with the pastry cream. Using two toothpicks, make holes in each of the Zeppole and fill each one with some pastry cream. Alternatively you can also place the pastry cream in a bowl and use it for dipping.