Pesche (Italian Peach Cookies)
My mother, Nonna Lola, used to make these peach cookies through all my growing up years. This is her version of the cookie from the town of Colledimacine in Abruzzo, Italy. There are several variations of the filling, including a custard like one. I personally like my Mama's best.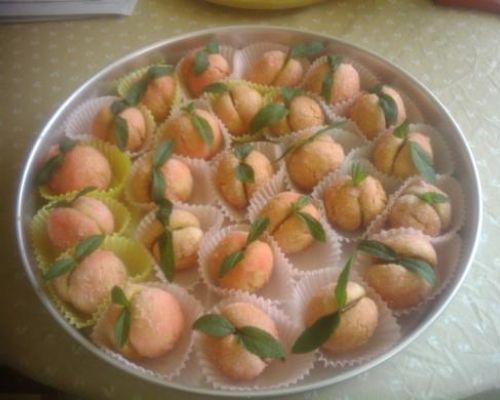 Ingredients
For 2 Dozen(s)
For the Cookies:
1

cup

sugar

1

cup

vegetable oil

1

tablespoon

baking powder

4

large eggs

4

cups

all purpose flour
For the Filling:
1

small jar of peach or apricot preserve

25

shelled almonds with skin on
For the Frosting:
1

cup

sugar, as needed

1

cup

grenadine, as needed

1

cup

peach or apricot brandy

leaves and cloves to garnish (optional)
Directions
Preheat oven to 350 degrees

Lightly grease cookie sheets or use parchment paper

Mix together sugar, eggs and oil. Add flour and baking powder. Form 1" balls (cookies should be "flat" on the bottom where they rest on the cookie sheet) and bake about 10-15 minutes (until lightly browned on the bottom).

while cookies are baking, prepare filling by combining the preserves and brandy.

while cookies are baking, prepare icing by placing cup of sugar in a small deep bowl, the grenadine in a small deep bowl, and the brandy in a small deep bowl.

When cookies come out of the oven, let cool for a few minutes. Take the cookies and use a knife to scoop out some cookie to form an indentation for the filling.

Place some filling in the indentation and place the almond in the middle (the pit of the peach)

Take another cookie and just put in the filling (no pit) this will be the other half. Put the two cookies together to look like a peach.

Dip the peach to get it complete wet on the outside in the brandy, dip again in the grenadine for the red coloring. Roll peach in sugar and place in muffin cups.

Before serving, garnish with leaves and or a clove in the middle.
Recipe Notes
I used a small round cookie scoop to scoop measure out the dough, it is real close to giving me enough dough for the size ball I need. I like this method because all the cookies come out the same size. I don't use cloves to garnish, I use spearmint leaves since they grow in my garden and are edible. My mama used to use the leaves off of our shrubs but then you have to be sure to tell everyone to take those out before they attempt to eat the greens.
Reviews
Friday, 23 April 2021
These look so adorable! I just made them, following the recipe to the letter, and they are adorable....
See Full Review >>
- Shoshi
Thursday, 08 September 2016
Haven\'t tried yet, however they sound wonderful. My family is from Abruzzo an It was nice seeing a ...
See Full Review >>
- May
Thursday, 08 September 2016
You Can Get Alkermes in the USA and they Ship also. I just found them. Corti Brothers 5810 Folsom ...
See Full Review >>
- Rayhorton