Ricotta & Jam Crumb Cake
Ricotta & Jam Crumb Cake.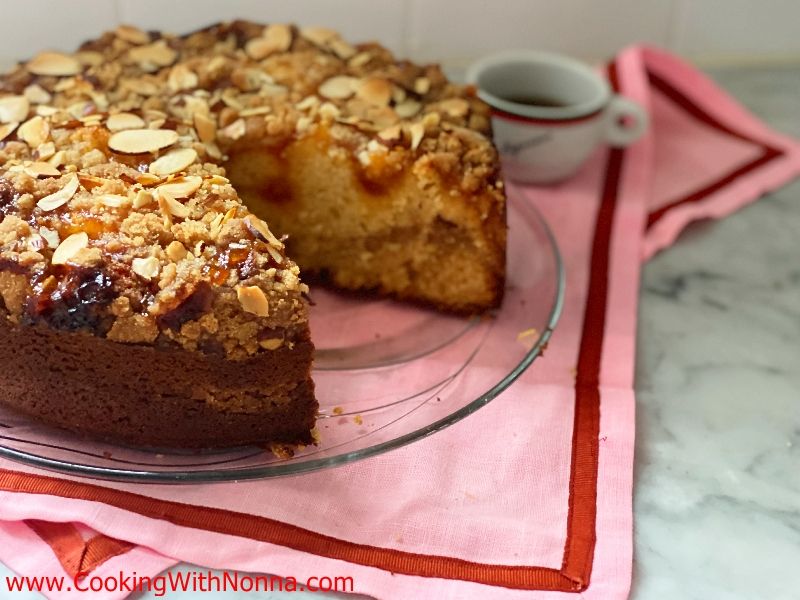 Ingredients
For 10 Person(s)
For the Crumb Topping:
1/2

cup

light brown sugar

3

tablespoons

granulated sugar

1

teaspoon

ground cinnamon

1/4

teaspoon

salt

1/2

cup

cup (1 stick) butter, melted

1 1/4

cups

all purpose flour
For the Cake:
2

cups

all purpose flour

1 1/2

teaspoons

baking powder

1/2

teaspoon

baking soda

1/2

tablespoon

salt

1/2

cup

olive oil

1

cup

granulated sugar

2

packets vanillina or 2 teaspoons vanilla extract

1 1/4

cups

whole milk ricotta

1/3

cup

whole milk

1

tablespoon

lemon juice

2

large eggs plus one egg yolk (room temperature)

1

apricot jam, or any flavor jam/preserves of your choice

2

tablespoons

sliced almonds
Directions
Jams from Italy available

HERE!

To make the crumb topping:

In a mixing bowl combine the sugars, cinnamon, salt, butter and flours. Using your hands, mix until the flour is fully absorbed. The mixture will be crumbly. Set aside.

To make the cake:

Preheat your oven to 350 degrees. Spray a 9 inch springform pan with baking spray. Set aside.
In a mixing bowl, whisk together the flour, baking powder, baking soda and salt. Set aside.
In a small bowl, whisk together the ricotta, milk and lemon juice until smooth. Set aside.
In another mixing bowl combine the olive oil, sugar and vanilla. Using an electric mixer, beat on medium speed until combined. Add in the eggs and yolk one at a time, mixing well after each addition.
Add the ricotta mixture to the bowl and beat until smooth.
Add in the dry ingredients and beat on low speed until just absorbed. Do not over mix!
Pour half the batter into the prepared pan. Follow with half the crumb mixture. Pour the rest of the batter over the crumbs. Smooth with a spatula.
Dollop the jam or preserves of your choice over the cake batter. Follow with the remaining crumbs and sliced almonds.
Bake for 70-80 minutes or until the center of the cake is set. Cool for at least one hour before cutting.
Reviews
Wednesday, 23 June 2021
How much apricot jam?
- Ecip
Saturday, 23 May 2020
This rose beautifully and the entire house smells *wonderful*!! The most challenging thing about thi...
See Full Review >>
- Mwhitsett