Nonna's Cream Puffs
Making Cream Puffs could not be any easier. Watch how I make them with my Nonna Romana who has been making them for a few decades!
PS: This Video Recipe is also available on the Cooking with Nonna TV Channels available on: Roku TV, Apple TV, Amazon Fire and Android.
Ingredients
For 2 Dozen(s)
For the Cream Puffs:
1

cup

00 or all purpose flour

1

stick

(4 ounces - 113 grams) butter

1

cup

water

4

large eggs

pinch of salt

custard cream (Recipe Below)

cannoli cream (Recipe Below)

whip cream

fresh strawberries
Now Available:
La Grande Famiglia Pasta Pack
with
FREE Shipping!
Get it HERE!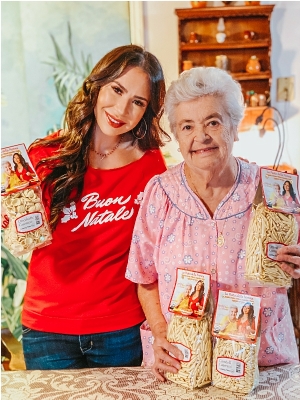 Directions
Make the Cream Puffs:

In a pot add the water, the butter and salt. Put the pot on the stove and melt the butter in the water.

Slowly add the flour and mix well until the flour is totally absorbed and you have a ball.

Put the ball in a stand mixer and one by one add the four eggs until you have a soft dough.

Preheat the oven at 425F

Put the dough in a baker's bag and deposit about 1 Tsp of dough on a baking sheet lined with parchment paper.

Bake for about 20-22 mins. until the Cream Puffs turn golden. Remove and set aside to cool.

Assemble the Cream Puffs:

Take each cream puff, with a serrated knife slice the cream puff in half and fill it with the cream that you prefer.

Garnish with fresh strawberries.

Enjoy!
Categories:
Nonna Romana Sciddurlo
,
Dessert & Cookie Recipes
,
Easy Recipes
,
All Recipes
,
Christmas Recipes
,
Thanksgiving Recipes
,
Easter Recipes
,
Valentine's Day Recipes
,
Super Bowl Recipes
,
Mother's Day Recipes
,
Father's Day Recipes
,
Memorial Day Recipes
,
4th July Recipes
,
Labor Day Recipes
,
Easter Cakes and Cookies
,
Valentine's Cake and Cookie Recipes
,
Pastry and Tart Recipes
,
Summer Dessert Recipes
,
Thanksgiving Dessert Recipes
,
Cream Puffs Recipes
,
Christmas Dessert Recipes