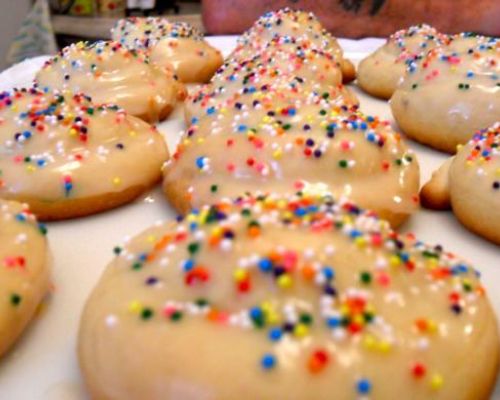 Ingredients
For 4 Dozen(s)
For the Cookies:
4

large eggs

1 1/2

cups

1/2 cups sugar

1

tablespoons

vanilla

1

cup

corn oil

1/2

cup

milk

6 1/2

cups

all-purpose flour

2

tablespoons

baking powder
For the Frosting:
1 1/2

cups

confectioners sugar, sifted

1/4

cup

milk

2

teasponns

vanilla extract
Directions
In a bowl, beat the eggs until pale yellow. Add the sugar and vanilla and beat until thick and light-colored. Add the oil and milk, beating well to combine.

Sift the flour and baking powder together and stir into the egg mixture.

The dough will be soft; wrap it in wax paper and refrigerate for at least one hour.

Preheat the oven to 350 degrees. Lightly grease three cookie sheets.

Place the dough on a well-floured surface. Knead dough for about 5 minutes, or until smooth and no longer sticky.

Break off egg-size pieces of dough and roll or coil into balls. Place the dough balls one-inch apart on the cookie sheets.

Bake for 20 minutes, or until lightly colored and firm to the touch.

Transfer cookies to wire racks to cool slightly before frosting.

For frosting, combine the sugar, milk and vanilla and stir until smooth.

While the cookies are still warm, dip the top of each cookie in the frosting. Place the cookies on racks to let the frosting dry before storing. Sprinkle with nonpareils, if desired.

Cookies will keep in an airtight container for up to one week or frozen for up to three months.
Recipe Notes
PS: When preparing to roll the cookies, add more flour if necessary to keep the dough from sticking to the board.
Memories:
When I was younger, I used to spend my Sundays visiting my great Italian grandmothers. The tenement apartment house of dad's mom's mother was always the first stop, and no matter what time of year and no matter what time we arrived, she always had something waiting for us to enjoy. Sometimes is was as simple as a bowl of ditalini in chicken broth or a slice of store-bought pound cake. But on those special days, we would walk into her kitchen to the sights and/or smells of her infamous egg biscuits. Now, I write infamous not because they were foul-tasting or burnt to a crisp; rather, the infamy comes from the fact that nobody in my family knows how to recreate them exactly like grandma. I have two very different recipes in my possession, with varying proportions and ingredients, and my aunt has three. Never mind that the variations are so significant (the inclusion of orange juice in one is just one example), it is impossible to know the true recipe because my great grandma didn't measure her ingredients. Even when baking, an art much like a science, she "eyeballed" everything. Despite the fact that her recipes have measurements, I never saw her measure anything, besides maybe with the occasional coffee cup. This recipe is a combination of all my grandmothers\' egg biscuits. Although it still does not produce an exact replica of those of mia nonna, they are certainly delicious.
Reviews
Thursday, 14 December 2017
Does anyone know if coconut oil and all purp gluten free flour can be substituted?
- SherriB
Thursday, 14 December 2017
This recipe is fabulous! It reminds me of the cookies I had growing up. So glad that I found it.
- crystalcave
Thursday, 14 December 2017
These were a big hit with family and friends. I definitely will be making these again.
- BellaVita1
Thursday, 14 December 2017
Four 1/2 dozen is a lot of cookies!!
- Kimcoll
Thursday, 14 December 2017
Made these yesterday. Share them with everyone today. Got rave reviews from those who enjoyed thes...
See Full Review >>
- TheKoob
Thursday, 08 September 2016
My nonna\'s and mom both had different recipes, I tried this one and it is as close to what I have. ...
See Full Review >>
- LBURNS
Thursday, 08 September 2016
Mine did not turn out so well a little dry.
- B Nonno
More Reviews