Chocolate pepper cookies
This recipe is a chocolate ball that is moist and full of flavor.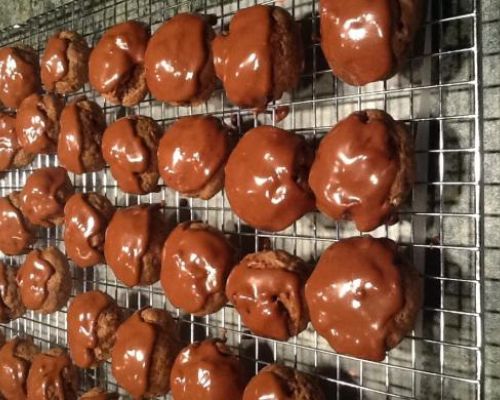 Ingredients
For 4 Dozen(s)
For the Cookies:
4

cups

all-purpose flour

1 1/8

cups

sugar

1/4

cup

dry Hershey baking cocoa

1/2

teaspoon

baking soda

1

teaspoon

baking powder

1/2

teaspoon

ground black pepper

1/2

teaspoon

ground cloves

1/2

teaspoon

cinnamon

1/4

cup

any kind of whiskey

1/2

cup

crisco shortening(do not use the butter type)

1/2

cup

milk( can use whole or skim)

1/2

cup

chopped walnuts
For the Frosting:
1/2

pound

powdered sugar

2

tablespoons

dry baking cocoa

2

tablespoons

vegetable oil

Cold coffee about 4 to 5 tablespoons and keep adding til it is smooth. You are going to dip the cookies and let the frosting drape over the cookie
Directions
Mix flour, sugar cocoa and all spices in a large bowl. Then add whiskey, shortening and milk and mix together.

Add walnuts and roll into small golfball size balls and place on ungreased cookie sheets.

Bake for 10 minutes or until bottoms are a nice light brown. Then cool on racks and frost.
Recipe Notes
If the dough is too dry just add more milk in small increments until it is incorporated and the dough is smooth and dough like. Add the walnuts after you get the dough mixed and if the dough is too sticky then just add a small amount of flour.
Reviews
Wednesday, 16 December 2020
Very disappointed in this recipe. It need quite a bit more liquid. I ended up adding more milk to ma...
See Full Review >>
- lyonn
Tuesday, 13 August 2019
just made the recipe but, didn't add eggs at all. Instead I used 8 ounces of sour cream along with t...
See Full Review >>
- sue arvonio
Wednesday, 26 December 2018
There is not nearly enough liquid to make this recipe work. Also I noted that it does not include e...
See Full Review >>
- jpcaruso3
Thursday, 14 December 2017
We really liked these....making them a 2nd time !!
- maxwell
Thursday, 14 December 2017
I also added a few sprinkles on top of the glaze to make it more Christmas-y. A delicious cookie th...
See Full Review >>
- coffeelover2009
Thursday, 08 September 2016
I had to add more liquid. 4 cups flour and 3/4 cup total liquid wasn't even as damp as a pie crust.
- Gunny Teufulhund