Anginetti - Italian Easter Cookies
This recipe is a familiar one among Italian families but always seem to vary slightly. This was my mother's recipe and we added the nutmeg and cinnamon as we like more a spice flavor.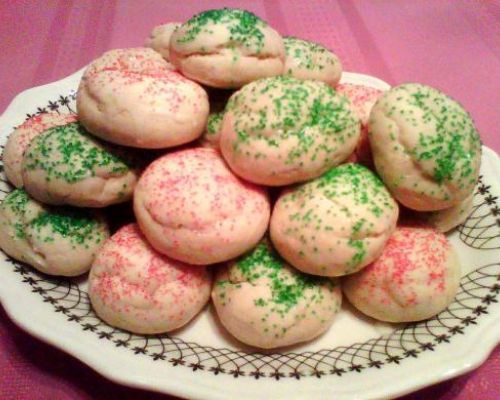 Ingredients
For 2 Dozen(s)
For the Cookies:
3

cups

flour

1/2

cup

sugar

1/4

cup

oil

1/4

cup

orange juice

1/2

stick of butter (2 Oz)

3

large eggs

3

teaspoons

baking powder

1

teaspoon

baking soda

1/2

teaspoon

salt

1

teaspoon

pure vanilla extract

1/2

teaspoon

nutmeg

1/2

teaspoon

cinnamon
For the Frosting:
confectionary sugar

half & half

sugar crystals of different colors
Directions
Blend oil & sugar; Mix in eggs, butter (softened) and orange juice;

Add vanilla extract, nutmeg, cinnamon and salt; Stir until completely blended.

Add flour, baking powder and baking soda and stir until completely blended.

Roll into balls and bake @ 350 for approx 10-15 mins (bake time depends on the size of the cookies)

Mix confectionary sugar with half and half until you get a thick creamy consistency.

Dip the cookies into the mix and sprinkle with sugar crystals.

Allow to set up and enjoy!
Recipe Notes
Place a small amount of flour in your hand when rolling into balls to avoid sticking. Make the balls slightly smaller than a ping-pong ball. You can also swap out orange extract for the vanilla for a more citrus flavor. :)
Reviews
Wednesday, 26 August 2020
I have a question, can I make the dough a day or two before baking.
- Antonietta45
Tuesday, 20 February 2018
My Nana always made these but they were anise flavored....I think I'll try this recipe...
- Robin-Marie
Thursday, 14 December 2017
my nonna nora pereni made this all time it seemed and we didnt complain at all :))
- Saint of circumstance
Thursday, 14 December 2017
Thank you, this is like my grandmother\'s recipe, but she would add almond or anise flavor. I am us...
See Full Review >>
- DiFerdinando
Thursday, 14 December 2017
I made this cookie. I kept the orange juice but changed the vanilla other spices for lemon flavoring...
See Full Review >>
- nanat323
Thursday, 14 December 2017
I made these this morning and they turned out DELICIOUS. The only thing I had to do was add a little...
See Full Review >>
- Italian Cooker