Pintenchusia
An Italian type cookie/roll that was made by my grandmother Carmela only at Easter and Christmas time. We called them Pintenchusia. My grandparents were from Sersale Italy.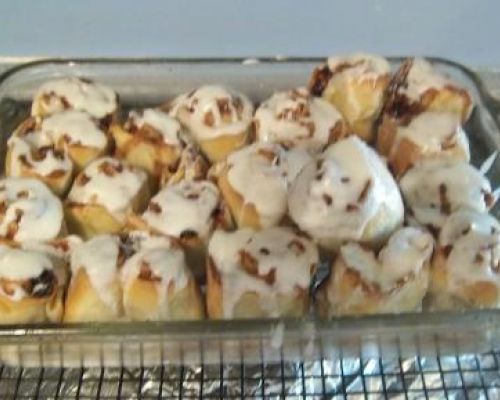 Ingredients
For 2 Dozen(s)
For the Dough:
1

package of yeast

2

cups

warm milk (100-110 temp)

3

large eggs

2

teaspoons

vanilla extract

8

tablespoons

sugar

8

cups

all purpose flour

1

teaspoon

salt

1 3/4

cups

shortening
For the Filling:
several cups of chopped walnuts and raisins

1/2

cup

sugar

1/2

cup

cinnamon
Directions
Dissolve yeast in warm milk.

Add eggs when cooled down and beat.

Add vanilla and sugar and beat again.

Use 4 cups of the flour and mix with the shortening and crumble like you were making a pie dough.

When crumbly start mixing in the other 4 cups of flour (I do this all in my kitchen aide with kneading attachment)

Slowly add the milk and eggs mixture and knead till soft and smooth.

Let dough rise for an hour in a warm place.

Divide dough into 4 pieces, keeping the ones not being used, covered.

Roll the dough out into a large(somewhat rectangular) and make as thin as possible.

When dough is is completely rolled out cover thinly with Crisco oil. Then cover with sugar, I use my hand and make a layer over the whole dough; then cover with cinnamon,

Add raisins and nuts (walnuts) to your liking covering the whole sheet.

Starting at one edge fold over the dough about one inch, and then cut into strips one at a time roll each one from both ends to make a pastry type roll.

Place into a Corning ware baking pan that has been oiled with Crisco

(I used coconut oil yesterday and it worked better than anything I have ever used for removing after they are baked)

Bake at 375 for 15 minutes, covered and then turn down to 325 uncovered and continue baking for about 30-45 minutes, till a light golden brown.

Be sure to let sit for only 10 minutes and then take out of pan carefully and cool another 15-30 minutes and then slowly and carefully take them apart.

Cool completely and then glaze with icing for an added touch.

Store in air tight container.