I Monaci di Nonna Rita
I Monaci... traditional Christmas cookies from Puglia as made by Nonna Rita originally from Mola di Bari.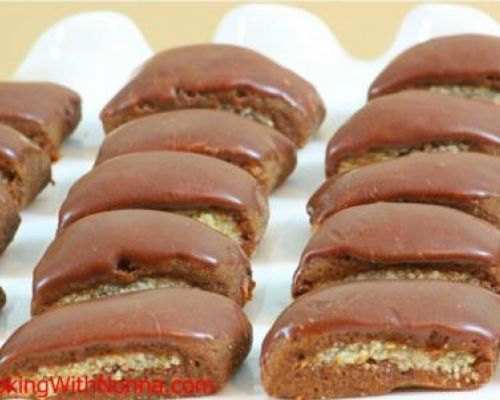 Ingredients
For 5 Dozen(s)
External Chocolate Dough:
1

pound

all purpose flour

3 1/2

ounces

sugar

1

tablespoon

olive oil

1

tablespoon

milk

1

tablespoon

bitter cocoa powder

1 1/2

teaspoon

baking powder

1

lemon zested

1

teaspoon

cinnamon

1/2

teaspoon

clove powder

1 1/2

cups

Vin Cotto
Internal Pasta Reale:
1/2

pound

raw almonds

1/4

pound

sugar

1

lemon zested

1/4

teaspoon

anise extract

2

egg whites

pinch

cinnamon
For the Icing:
1/2

pound

powder sugar

2

tablespoons

cocoa powder

2

lemons, juiced

2

drops

anise extract
Directions
As a first step, prepare the Internal Pasta Reale. Boil the almonds and remove the peel. Once the almonds are cold and somewhat dry, put them in a food processor or a blender and chop them finely.

Put the chopped almonds in a bowl, add the lemon zest, a pinch of cinnamon, the sugar and the egg whites. Mix until the egg whites dilute the sugar and the mixture becomes a paste. Set aside.

Now prepare the External dough. In the bowl of a stand mixer, put all the ingredients of the external dough and mix them all very well.

The ball of dough you obtain will be rather soft, so add a little flour to help you remove it from the mixer and put is aside.

On a wooden board, take a chunk of the external dough and with a rolling pin, flatten it longways about 2 1/2" wide and 1/4" thick. Cut around the edges to make the dough straight and even on all sides.

Deposit at the center a line of the internal dough of about 1" wide and 1/2" thick. Enclose the internal dough with external dough so that it looks like a tube. Flatten the dough with your hands and with a sharp knife, cut it diagonally every 1" to get your cookies.

Put all your cookies on a baking sheet and bake them at 350F for 20 minutes.

Nonna Rita Tribuzio

Prepare the Icing:

Once all the cookies have been baked and cooled off you can put icing on them.

In a bowl, add all your icing ingredients and mix them well. The icing will be very soft.

With a brush or your finger, put some icing on each cookie and let them dry.

Once they all dry, they are ready to be served.
Reviews
Thursday, 14 December 2017
This recipe comes just in time for Christmas! Thank you nonna Rita!
- Nonna Antoinette