Seven Layer - Rainbow Cookies
Seven Layer Rainbow Cookies... the colorful cookie for all major holidays, parties and special occasions.
The video of this recipe is now available on the Cooking with Nonna Roku Channel and you can enjoy it on a large screen TV in the comfort of your living room.
Ingredients
For 3 Dozen(s)
For the Cookies:
2

cups

all purpose flour

4

eggs yolks

4

egg whites

1

cup

sugar

8

ounces

butter, room temperature

3/4

pound

almond paste

4

ounces

semi-sweet Bakers chocolate

colors: green & red

jam
Try La Pasta della Nonna in
La Grande Famiglia Pasta Pack
with
FREE Shipping!
Get it HERE!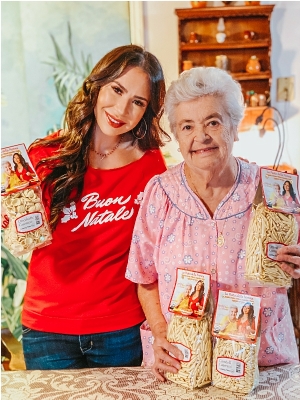 Directions
In a stand mixer add the egg yolks and the butter and mix well.

Add the sugar and mix well.

Add the almond paste and mix well. Break up the almond paste in small chunks before adding it to the mixer so that it mixes quicker.

Add the flour and mix well.

Beat the egg whites with a fork until they get a little foamy and add them to the mixer. Mix for a few minutes until you have a soft and uniform dough.

Take the dough, divide it in 3 equal parts and put it in three separate bowls.

The dough in one bowl should be left white.

The dough of one of the other bowls should be colored green and the other one red. Add as much food color as you like until you get the color tone that you prefer.

Evenly spread the mixes in three separate ungreased aluminum baking sheets (12"x8").

Bake each one at 375F for 10-12 mins. Let them all cool off.

Put a piece of parchment paper on a wood board and deposit the green sheet.

Spread a thin layer of apricot jam over the entire surface of the green sheet.

Place the white sheet on top of the green sheet.

Spread apricot jam on the white surface as well.

Deposit the red sheet over the white and with your hands press well so that the three sheets will stick together.

With a serrated knife trim all four edges of the tricolor sheets.

Met the chocolate and spread it over the top of the sheets.

Let the chocolate dry, preferably overnight, turn upside down and spread melted chocolate over the other side.

Let the chocolate dry and cut the cookies into pieces of about 1 1/2" x 1/2" or as big as you prefer.
Categories:
Dessert & Cookie Recipes
,
Intermediate Recipes
,
All Recipes
,
Christmas Recipes
,
Easter Recipes
,
Valentine's Day Recipes
,
Passover Recipes
,
Mother's Day Recipes
,
Father's Day Recipes
,
Christmas Cookies Recipes
,
Easter Cakes and Cookies
,
Valentine's Cake and Cookie Recipes
,
Cookies Recipes
,
Thanksgiving Dessert Recipes
,
Nonna Cecilia DeBellis
,
Italian Wedding Cookies and Pastries
Reviews
Wednesday, 09 September 2020
Fantastic recipe and so easy to make. Nonna really knows her cookies.
- garzmax
Saturday, 21 December 2019
Was very easy to make and delicious!
- carolvon
Thursday, 19 December 2019
I love these cookies and want to try them myself. I have a question on the almond paste. It calls ...
See Full Review >>
- Scarlone77
Friday, 01 February 2019
they are great
- Conn362016
Thursday, 13 December 2018
I'm going to try and make them,I have tasted them and they are very very good!!! I'm sure this recip...
See Full Review >>
- blondi820
Monday, 13 August 2018
These were delicious! Just like I had growing up in NY from the Italian bakery! They were also easy ...
See Full Review >>
- lfiordiliso
Sunday, 06 May 2018
I have made these before, the hard way! This way was simple! I had a little trouble spreading out ...
See Full Review >>
- Marianne527
Tuesday, 12 December 2017
Very easy to make since I watched the video. I used to make it the hard way. Nonna showed me how e...
See Full Review >>
- CRaffo
More Reviews