Amelia's Molasses-Spice Mostaccioli
My late Grandma, Amelia DeFusco, made these cookies every Christmas. They are a bit unusual, however— most mostaccioli include chocolate, typically in the icing, but not uncommonly in the cookie as well. This recipe has no chocolate, and additionally has one ingredient—molasses—that is not usually seen in mostaccioli recipes. All I can say is that they are quite delicious. The cookies use oil or shortening for the fat, which is common for authentic recipes from southern Italy.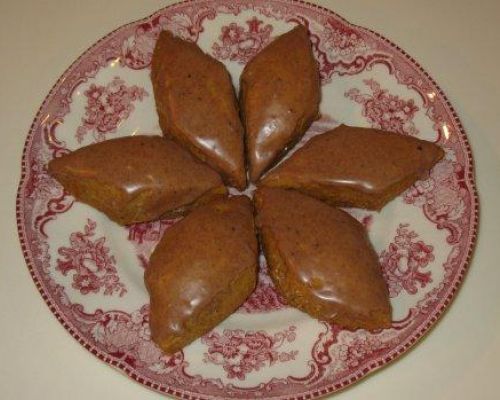 Easter Cake & Cookie Recipes:
Ingredients
For 2 Dozen(s)
Dry Ingredients:
3

cups

flour

3

teaspoon

baking powder

1/2

teaspoon

baking soda

1/8

teaspoon

salt

1

teaspoon

cinnamon

1/2

teaspoon

cloves

1/8

teaspoon

nutmeg

1/4

cup

granulated sugar

1

zest of one orange
Wet Ingredients:
2

large eggs

1/2

cup

molasses

1/4

cup

milk, plus more if needed

1

teaspoon

vanilla extract

4

ounces

oil or shortening
Icing:
8

ounces

confections's sugar

1 1/2

tablespoons

milk

3/4

teaspoon

cinnamon

1/4

teaspoon

cloves
Directions
Traditionally, all the ingredients are mixed by hand, though if one wants a lighter cookie, one can use an electric mixer to beat the eggs, and cream the sugar and fat and molasses together.

In either case, combine all the wet ingredients as well as the sugar and mix or beat.

Combine all the dry ingredients less the sugar, and add the wet ingredients to the dry.

Mix until a dough is formed, adding flour or milk as necessary to obtain a consistency that is firm and a bit sticky.

Do not overmix–otherwise the cookies will develop a bread-like instead of a cookie-like texture.

Wrap the dough in plastic wrap, and let it rest for about 20 minutes in the refrigerator.

Roll the dough about 1/3" thick, cut into diamond shapes, and place on an oiled or parchment-lined cookie sheet. I like using parchment, because it is 100% reliable and quick.

Bake at 350F for about 12 to 15 minutes.

While the cookies are baking, it's time to make the icing. The icing is important for the flavor profile of the cookies—without it, the cookies will seem a bit bland and not sweet enough.

To make the icing, put all the dry ingredients in a bowl, and slowly add milk.

Add just enough milk to make a mixture that is about the consistency of pancake batter. Add the milk carefully–even a little too much will cause the icing to become too thin, and more confectioners' sugar will be needed.

When the cookies are done remove them from the oven and place them on a drying rack with wax paper or even newspaper underneath to catch any icing that drips off in the next step.

When mostly cool, apply the icing with a pastry brush or by dipping the cookies into the icing. If doing the latter, the icing should be a bit thinner so any excess can easily drip off.

Let the cookies dry thoroughly, and place them in a tin. If the icing gets sticky, the cookies were not sufficiently dried and must be placed back on the drying rack.

Do not refrigerate the cookies, but rather store them in a tin. The cookies will develop their best flavor after aging for a few days.