Cannoli Siciliani Recipe
Cannoli Siciliani - Sicilian Cannoli Recipe: Cannoli are basically crisp, sweet crunchy tubes which are filled with a cream or ricotta cheese filling, often flavored with cocoa, nuts, chocolate, or candied fruits. This is a very traditional recipe for cannoli which are a very popular sweet in Sicily. You will need 3 to 4 metal cannoli tubes to makes these cannoli which are readily available at most kitchen stores. Do not fill the cannoli siciliani too far in advance, or they may become soggy.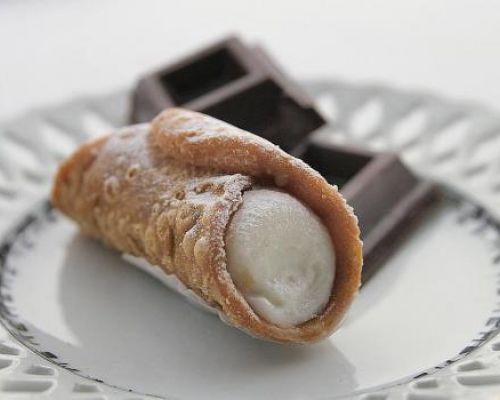 Ingredients
For 12 Person(s)
For the Shells:
2

cups

all purpose flour

2

tablespoons

unsalted butter or shortening

1

teaspoon

sugar

1

dash of salt

3/4

cup

Marsala Wine

1

egg white

oil for frying
For the Filling:
3

cups

full fat ricotta cheese

1/2

cup

powdered sugar

1/2

cup

mini chocolate chips

1/2

teaspoon

vanilla extract

6

tablespoons

mixed candies fruit peels

6

glaced cherries, finely chopped
Directions
To make the shells:

Mix together the flour, butter or shortening, sugar, and salt. Begin to add the wine, adding enough so that you have formed a fairly firm dough.

Knead for a few minutes until smooth. Form into a ball, wrap in plastic wrap, and let sit at room temperature for one hour.

Cut the dough in half, and roll thinly to about a 1/4 inch thickness. Cut into 4 square. Place a metal diagonally across each square, and wrap the dough around the tube. Seal the edges with a little beaten egg white.

Heat the oil in a large pan until it reaches a temperature of 375 degrees F. Drop one or two tubes into the hot oil at one time, and cook until golden. Remove from the pan, cool, and gently slide the cannoli shell from the tube.

Continue to make the rest of the shells in this manner.

To make the filling:

First let the ricotta sit in a strainer over a small bowl in the refrigerator for 30 minutes to remove excess water.

Mix the ricotta with the rest of the ingredients. Chill in the refrigerator for at least 30 minutes.

Fill each cannoli shell carefully, and sprinkle with a little extra powdered sugar if desired. Chill until you are ready to serve

.
Recipe Notes
You can even dip the end of your shells into melted chocolate. Love this recipe of Cannoli Siciliani!!!
Categories:
Dessert & Cookie Recipes
,
Sicilian Recipes
,
Intermediate Recipes
,
All Recipes
,
Christmas Recipes
,
Thanksgiving Recipes
,
Easter Recipes
,
Super Bowl Recipes
,
Ricotta Recipes
,
Mother's Day Recipes
,
Father's Day Recipes
,
4th July Recipes
,
Labor Day Recipes
,
Christmas Cookies Recipes
,
Easter Cakes and Cookies
,
Valentine's Cake and Cookie Recipes
,
Pastry and Tart Recipes
,
Summer Dessert Recipes
,
Thanksgiving Dessert Recipes
,
Cannoli Recipes
Reviews
Thursday, 14 December 2017
One of the best italian desserts!! Yummy!!
- michel30014
Thursday, 14 December 2017
Love cannolis soooo much
- Eveliab
Thursday, 08 September 2016
No whipped cream to lighten the ricotta?
- Zia