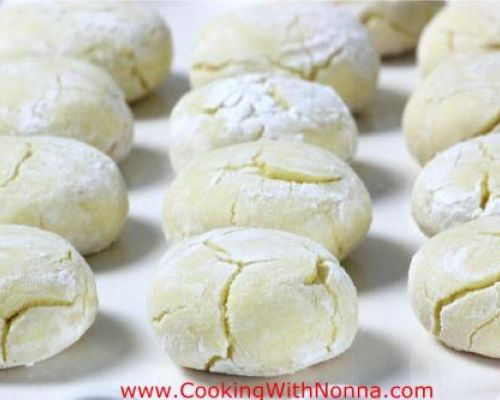 Ingredients
For 2 Dozen(s)
For the Cookies:
1 3/4

cups

semolina flour

3

tablespoons

butter (room temperature)

3

tablespoons

extra virgin olive oil

1/2

cup

confectioners sugar (plus more to roll the cookies in)

2

large eggs

1

tablespoons

baking powder

pinch of salt

1

tablespoon

vanilla extract

1

lemon, zest and juice
Directions
Preheat your oven to 350 degrees.

In a small saucepan melt the butter and oil together over low heat. Make sure the mixture doesn't fry. Let cool slightly and set aside.

In a stand mixer or with an electric mixer, mix the eggs and sugar together until combined.

Add the oil and butter and then the vanilla, lemon zest and juice.

Add the dry ingredients and mix just until the dough comes together.

Form the dough into a disc and wrap it in plastic wrap and let it rest in the refrigerator for at least an hour.

Form little discs with the dough by hand and roll them in powdered sugar. Bake for 15-20 minutes on a baking sheet lined with parchment paper or tin foil until little cracks in the tops of each cookie start to form.
Categories:
Dessert & Cookie Recipes
,
Baking with Rossella
,
All Recipes
,
Christmas Recipes
,
Thanksgiving Recipes
,
Easter Recipes
,
Valentine's Day Recipes
,
Mother's Day Recipes
,
Father's Day Recipes
,
Christmas Cookies Recipes
,
Easter Cakes and Cookies
,
Valentine's Cake and Cookie Recipes
,
Cookies Recipes
,
Summer Dessert Recipes
,
Thanksgiving Dessert Recipes
,
Lemon Recipes
Reviews
Sunday, 21 April 2019
Something is missing. I'm not sure what it is because i'm not a baker but this recipe needs more. ...
See Full Review >>
- deejoey326