Chocolate Glazed S Cookies
Chocolate Glazed S Cookies.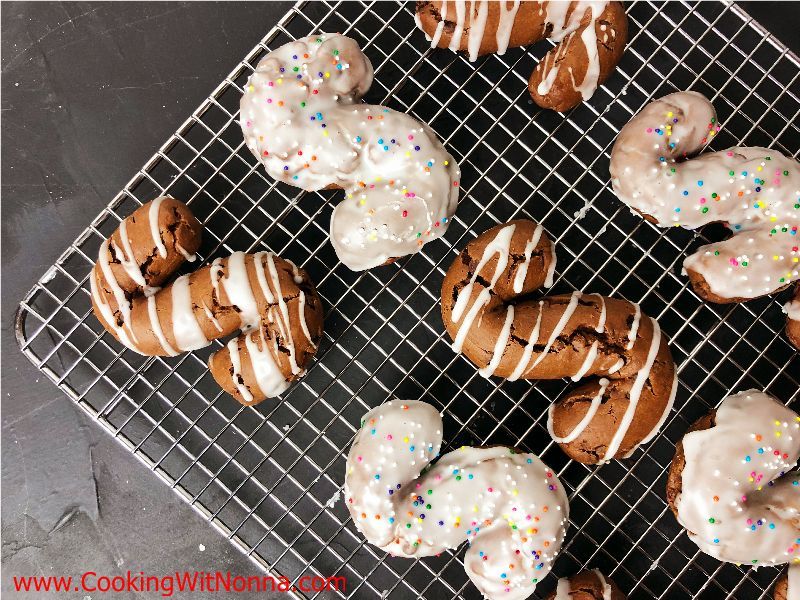 Ingredients
For 2 Dozen(s)
For the Cookies:
2

cups

all purpose flour

1/4

cup

unsweetened cocoa powder

1 1/2

teaspoon

baking powder

1/2

teaspoon

salt

3

large eggs

1

cup

granulated sugar plus extra for sprinkling

6

tablespoons

olive oil

1/2

cup

mini semisweet chocolate chips
For the Glaze:
2

cups

confectioners sugar

1

tablespoon

vanilla extract

1/4

cup

whole milk

colored nonpareils for decorating
Directions
For the cookies:

Preheat the oven to 375 degrees.

Line a 13x18 inch baking sheet with aluminum foil or parchment paper. Spray with baking spray and set aside.

In a large mixing bowl whisk together the flour, cocoa powder, baking powder and salt. Set aside.

In the bowl of a stand mixer fitted with the paddle attachment combine the eggs, sugar and oil. Mix on medium speed until all the ingredients are combined.

Add in the dry ingredients and mix until a soft dough comes together, about 3-4 minutes. Do not over mix! The dough should be soft but stiff enough that it does not stick to your hands.

Add in the chocolate chips and mix.

Working with a handful of dough at a time, roll out the dough into a 1 inch thick rope.

Cut 5-6 inch pieces and shape each piece into an S shape about 2 inches apart. Gently press each cookie to flatten them slightly.

Bake for 18-20 minutes. Cool completely before glazing.

To make the glaze:

In a small bowl whisk together the confectioners sugar, vanilla and milk until smooth. Drizzle over the cookies or dip the cookies in the glaze and place on a wire rack to allow excess to drip off.

Decorate with nonpareils as desired.
Reviews
Sunday, 30 December 2018
When you say olive oil in the recipe is it extra virgin or light olive oil?
- Italmamacita