Cucciddatini - Sicilian Christmas Cookies
Buccellato, in dialect "cucciddatu" is a traditional dessert for the Christmas period prepared throughout the island and became a cornerstone of Sicilian cuisine. Usually in the form of ring is also packaged in smaller forms: cucciddatini, stuffed cookies. The ingredients, may vary from place to place, consisting of four different things: dried figs, almonds, walnuts, hazelnuts and pistachios. In addition, the combination with other products such as lemon, orange, cinnamon, vanilla and honey give this dessert a place of honor among the others and marks a contrast with the traditional panettone and pandoro which originated in northern Italy.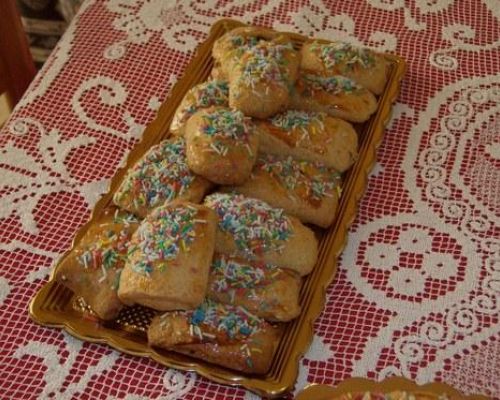 Ingredients
For 1 Batch(es)
For the Cuccidatini:
17 1/2

ounces

(500 gr) of flour 00

5 1/3

ounces

(150 gr) of sugar

5 1/3

ounces

(150 gr) of margarine

ounces

(5 gr) of baking powder

5

tablespoons

honey

1

pound

(400 gr) of dried figs

1 3/4

ounces

(50 gr) almonds, peeled and coarsely chopped

1 3/4

ounces

(50 gr) chopped walnuts

1 3/4

ounces

(50 gr) of roasted hazelnuts, coarsely chopped

1 3/4

ounces

(50 gr) pistachios

1 3/4

ounces

(50 gr) of dark chocolate

1

packet of vanilla or 1 teaspoon of vanilla extract

1

lemon, zest only

1

orange, zest only

small stick of cinnamon powder

4

teaspoons

cloves very finely divided

colored sprinkles

sugar

2

tablespoons

Marsala wine
Directions
For the stuffing:

Place figs in a bowl with marsala and chop them with a food processor, then cover with plastic wrap and set aside.

Coarsely chop almonds, walnuts, hazelnuts and pistachios.

Add the lemon and orange zest, cinnamon and cloves minced well.

Add the figs in a saucepan and mix 2-3-tablespoons of honey.

Cook it for a few minutes, incorporating a couple of tablespoons of water.

When the filling gets very cold, add chocolate into small pieces and set aside.

Prepare the dough

Mix flour with sugar, margarine, 2-3 tablespoons of honey, vanilla, baking powder and water as much as necessary to obtain a homogeneous and consistent mixture.

Wrap the dough in plastic film and let rest in refrigerator for about 30 minutes.

Roll out the dough, but not too thin and cut into rectangles of 4 x 2 inches

Put a spoonful of filling in the center of each rectangle and wrap the dough around itself to form the rolls.

Score the surface in 2 - 3 points and bend slightly each piece like an arch (if you wish, you may not bend).

Put the tiny coloured balls on a plate and lay the cucciddatini from the top, so they will remain stuck.

Put the cucciddatini on a baking sheet lined with parchment paper and bake at 390°F (200celsius) for 30-40 minutes.

Let cool and then sprinkle with powdered sugar.
Reviews
Thursday, 14 December 2017
Yes the the instructions do say to cook the figs with everything else. :)
- rossella rago
Thursday, 08 September 2016
Don't understand the instructions. Do you cook the figs with everything else?
- Mary2