Biscottini
Almond Biscottini... so delicate and delicious!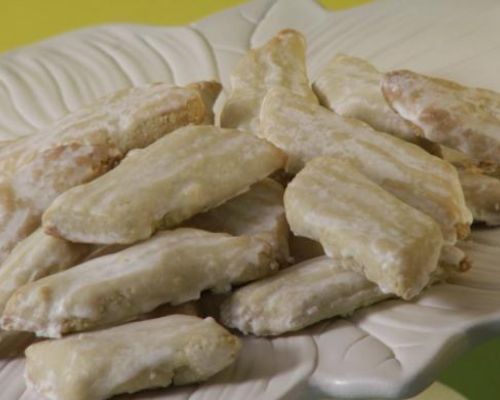 Ingredients
For 2 Dozen(s)
For the Cookies:
1

pound

raw almonds

1/2

pound

sugar

2

lemons, zest only

3

egg whites
For the Icing:
3/4

pound

powdered sugar

1/4

cup

milk
Directions
To prepare the paste, boil the almonds and remove the peel. Once they are cold and somewhat dry, put them in a food processor or a blender and chop them finely.

Put the chopped almonds in a bowl, add the lemon zest, the sugar and egg whites. Mix until the egg whites dilute the sugar and the mixture becomes a paste.

Take a lump of dough, roll it into a stick about 8" long and 1/2" thick. Press with a fork to flatten it and create ridges with the teeth of the fork. Cut the strip of dough with a knife in rhomboid shapes about 1 1/2" long.

Place all the cookies on a baking sheet and bake for 10 mins. at 350F. Let them cool.

Make your icing my mixing the milk and sugar. The icing should be a thick liquid.

With a brush apply the icing on each cookie to cover the top.

Let the icing dry completely for several hours.
Recipe Notes
These beautiful cookies are traditionally made at Easter but in the good old days were also served at weddings as part of a plate of cookies that the bride would give to all guests of the wedding to take home.
Categories:
Nonna Romana Sciddurlo
,
Dessert & Cookie Recipes
,
Puglia Recipes
,
Easy Recipes
,
All Recipes
,
Christmas Recipes
,
Easter Recipes
,
Christmas Cookies Recipes
,
Easter Cakes and Cookies
,
Cookies Recipes
,
Heart Friendly Dessert Recipes
,
Gluten Free Dessert Recipes
,
Vegetarian Dessert Recipes
,
Mediterranean Diet Dessert Recipes
,
Almond Cookie and Dessert Recipes
,
Italian Wedding Cookies and Pastries
Reviews
Thursday, 14 December 2017
I want to make them but could you use almond paste instead
- islandteal
Thursday, 08 September 2016
this recipe was very very delicious!!! i would have given it 4 pots but i wanted to note that the ic...
See Full Review >>
- sud_italiano