Biscottini
Crunchy savory biscottone flavored with either anise or fennel seed. Great with cheese, soppresatta, fruit and wine (our spuntino). This recipe makes 5 pounds of well dehydrated, long lasting beauties.
Ingredients
For 5 Person(s)
Recipe
of flour (or 10 cups)

1/2

cup of anise or fennel seed

measure with my hand, 3 palms)

3

heaping T of kosher salt

palm)

10

tsp of yeast

1

liter of warm water

honey or sugar

2

1/2- 2 3/4 C olive oil

mybanner}
Try La Pasta della Nonna in
La Grande Famiglia Pasta Pack
with
FREE Shipping!
Get it HERE!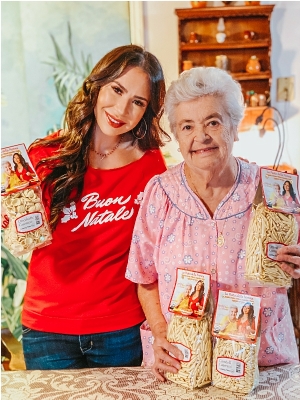 Directions
Heat the oven to 325'
In a very large mixing bowl put all dry ingredients, mix together with a long handle spoon.
In a separate bowl add warm water & honey stir until mixed.
Add the yeast and wisk into the water. Let the yeast bloom and react with the honey @ 5-10 min.
Add 1/2 of the water and 1/2 of the oil into a well in the flour, mix within the well until incorporated and add the remaining liquids until you cannot mix with a spoon.
Then mix with the hands (this is just like bread making) when all dry ingredients are combined turn onto a kneeding surface and kneed the flour mixture for @ 10-15 min return into the large bowl and cover with a white cotton towel to rise double @ 45 min.
When doubled take a generous handful of dough roll gently to make a ball. Punch your thumb thru the middle and spread apart gently to form a circle @ 2 1/2" and place on a cookie sheet. Fill up @ 3 cookie sheets let them rest for 15 min covered with the towel.
Place in the oven and bake for @ 45 min or lightly golden.
Remove from the oven and take out of the cookie sheet and let them cool on the counter.
When cool enough to handle, split with a fork and place directly on the oven racks back in the oven and bake @ 275\' for 1 1/2 hrs. Turn off the oven and let them cool in the oven for a couple of hours or over night. They will be well dehydrated and last a long time in a container or zip lock baggies.




Make sure your oil is fresh, they will go rancid in warm weather if your oil is old! What a sin to throw them out after all that time and work!!! Don't worry about making perfect uniform biscottini, they are very rustic, very addicting! The more oil you use makes them more flaky.


none
Categories:
Bread and Focaccia Recipes
,
Intermediate Recipes
,
All Recipes
,
Christmas Recipes
,
Thanksgiving Recipes
,
Easter Recipes
,
Valentine's Day Recipes
,
Super Bowl Recipes
,
Mother's Day Recipes
,
Father's Day Recipes
,
Memorial Day Recipes
,
4th July Recipes
,
Labor Day Recipes
,
Valentine's Day  Recipes
,
Vegetarian Appetizer Recipes
,
Vegan Appetizer Recipes
,
Mediterranean Diet Appetizer Recipes
,
Thanksgiving Appetizers and Sides Recipes
,
Christmas Appetizer Recipes
,
Easter Appetizer and Side Recipes