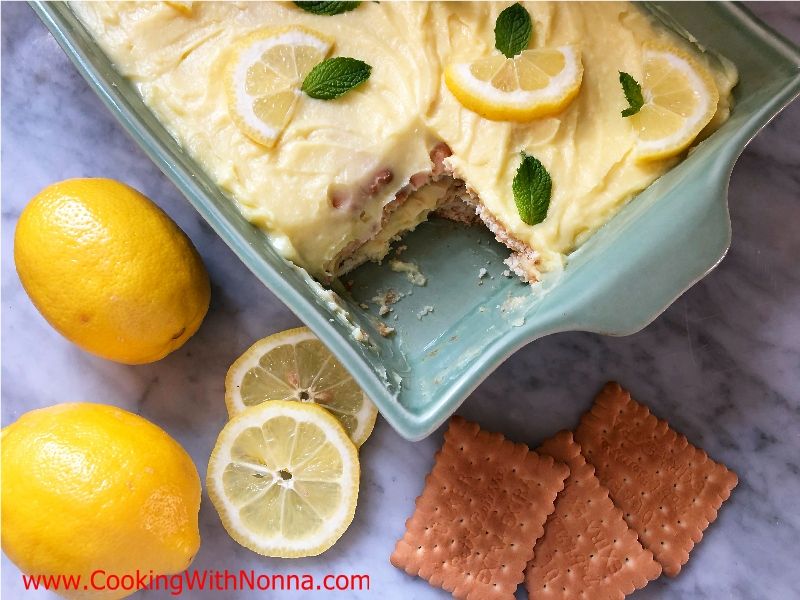 Ingredients
For 10 Person(s)
For the Limoncello Cream:
1 3/4

cups

+ 2 tablespoons whole milk

1 3/4

cups

+ 2 tablespoons limoncello liqueur

1/2

cup

heavy cream

1 1/2

cups

granulated sugar

3/4

cup

corn starch

1

teaspoon

vanilla extract

10

egg yolks

peel of one lemon, cut into one long piece
For the Cake:
about 24 tea biscuits or Graham Crackers

whole milk for dipping

lemons and mint leaves for decorating
Directions
To make the cream:

In a medium sized saucepan combine the milk, limoncello, heavy cream, sugar, cornstarch, vanilla, egg yolks and lemon peel.
Whisk all the ingredients together until smooth. Turn the flame onto medium low and whisk continuously until the mixture begins to thicken, about 15 minutes.
Once the cream can coat the back of a spoon remove from heat. Strain any lumps if necessary and press plastic wrap directly into the cream to prevent a skin from forming.
Cool to room temperature before using.

To assemble:

Lightly dip the cookies in the milk and line the bottom of an 11x7 inch pan with the cookies. You will need about 12 cookies per layer.
Spread about 1/3 of the cream over the cookies.
Repeat 2 more times and refrigerate for at least 4 hours or overnight.
Serve chilled.