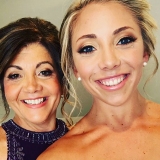 Donnamadf
My Golden Pots:

My Nonna Points:
3
Member of La Famiglia since:
03/23/2019
Female Mother Pretty Good!
I have a question about the Pumpkin Ricotta zeppoles ... can the dough be made ahead of time and then fried later? and can the zeppoles be reheated (although I know they are best when served right after frying).