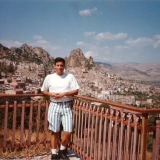 mpernetti
My Golden Pots:

My Nonna Points:
3
Member of La Famiglia since:
05/03/2021
Male Son Pretty Good!
Can you please clarify the amount of Vanilla extract to be used for the Almond Ricotta cake. The written recipe states 1 tablespoon, but in the video you said 1 teaspoon. 1 tablespoon of almond extract also?? Thanks.