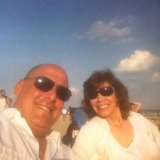 patrickvadala
My Golden Pots:

My Nonna Points:
10
Member of La Famiglia since:
02/04/2017
Hi Rosella,
We ordered a combination pack of the pasta. It is excellent. The taste and texture is amazingly close to fresh made. We love it, it reminds me of the Gavadeels (lol Cavatelli) I made with my grandmother. Thanks you so much for bringing this product to us. Thank Nonna for us also.

Patrick

rossella rago
Thank you so much! So happy that you like my pasta. It means so much to me! Buona Pasqua!
4 years ago


Pizza is a very personal taste. As in Italy pizza varies by region,having to do with local ingredients and traditions. I grew up in Gravesend, Brooklyn, NY. Spumoni Gardens was the niehborhood standard. Although not as good as it was, it is still on top of my list. I now live in Middletown NJ. Pasquale's III on Cherry Tree farm road does a great...Pizza is a very personal taste. As in Italy pizza varies by region,having to do with local ingredients and traditions. I grew up in Gravesend, Brooklyn, NY. Spumoni Gardens was the niehborhood standard. Although not as good as it was, it is still on top of my list. I now live in Middletown NJ. Pasquale's III on Cherry Tree farm road does a great job and Zoni's Coal Fired pizza, on Highway 35 North in Middleton, does excellent artisinal pizzas. Show more