A Present for Papa'!
While Father's Day is celebrated in Italy in March and coincides with Saint Joseph's Day, Americans set aside a day for Dad in June. This year, we asked Vito to select some of his favorites for a perfect Father's Day box, and he surely delivered. The first of its kind at La Bottega, we present the Papa' Box!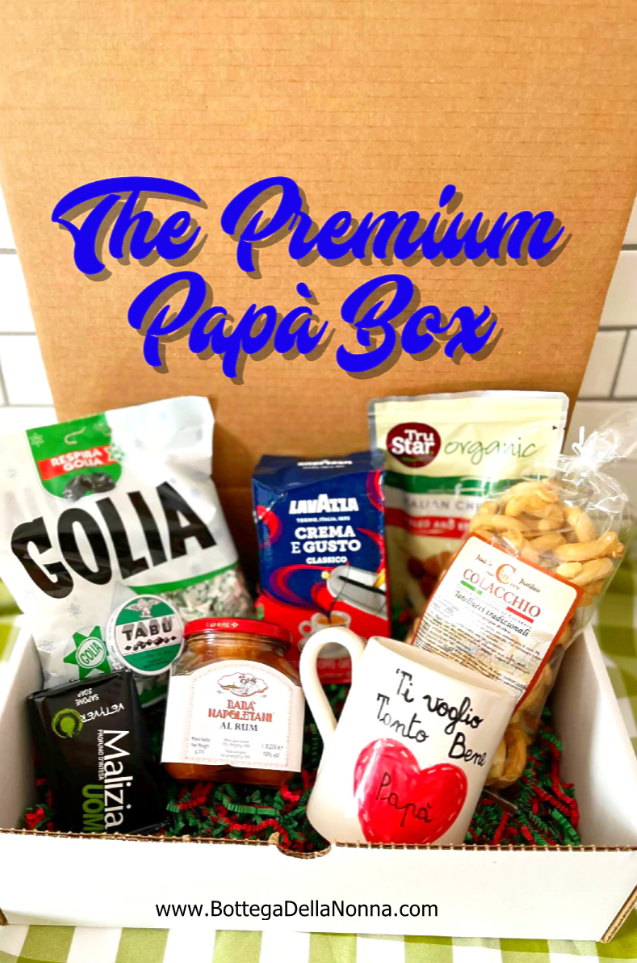 Each Premium Papa Box Contains:
1 "Ti Voglio Tanto Bene Papa`" mug from Positano, Italy: Perfect for Papa's morning coffee
1 Jar Baba` al Rum imported from Italy: Just because they are so delicious
1 Pack Lavazza Crema & Gusto ground espresso coffee imported from Italy: Papa' always needs an espresso to start the day.
1 Bag Ready to Eat Organic Chestnuts imported from Italy: For snacking! And they are healthy.
1 Bag Taralli Tradizionali imported from Italy: More snacking of course. Nonno and Papa' love snacking
1 Bag Golia Licorice Candies imported from Italy: In between meals
1 Bar Malizia soap for men imported from Italy: One of Papa's favorite soaps, straight from Italy.
1 Tin Pure Tabu` licorice, imported from Italy: Never enough licorice for Papa'
You can also opt for the regular Papa' Box which does not include the ceramic mug from Positano. Both boxes ship free anywhere in the United States. Don't forget Papa' and Nonno this Father's Day! Shop here.