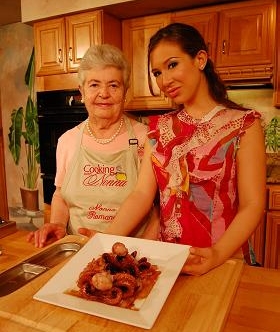 Ciao a Tutti!

This week on Cooking with Nonna, my very own Nonna Romana will be on hand to show us the ins-and-outs of the notoriously curly octopus.  "Polpi in Acqua Loro" (Octopus in its own water) is our recipe for the week -- just writing that reminds me of the eager anticipation that would last throughout the day knowing it was for dinner.  For those who are new to the show, both myself and my nonna are from a little hamlet in the southeast of Italy called Mola di Bari.  Our tiny seafaring town is known all over for the quality (and quantity) of our octopus, so it's with that in mind that we're going to be making perhaps the tastiest (and certainly fastest) variety we have.
For the actual recipe, all you need in addition to your octopus is a small compliment of chopped onions, some oil, and a little bit of salt.  The onions will soften in the oil, and as they become transparent they will lend their moisture to the mixture along with the water being released from the octopus itself.  Add a touch of salt and you are on your way to a full main course from start to finish in under 10 minutes.  

Thank you, Nonna Romana, for being my nonna and giving me all the inspiration anyone could ever need.
See you all next week!


Tanti baci,

Rossella