We all adore sharing a delicious meal with loved ones, but many loathe the mess of pans, measuring cups, and other assorted items that remain in the aftermath. What if you only needed one pan and a spoon to prepare a magnificent pasta in the likeness of your Nonna? Well now you can. Nonna and Rossella curated this One Pan Pasta Box perfect for those that want to prepare a great pasta dish in record time using only one pan.

You receive four packs of condiments from La Fabbrica della Pasta of Gragnano so that you can make four delicious dishes according to traditional Italian recipes. All you have to do is boil some water, add one of the condiment packs and the dry pasta and let them cook together for about 8-10 minutes and you are done!

All the ingredients included are premium products imported from Italy. The condiments are from the Amalfi Coast, the Pasta is from Fara San Martino, Abruzzo and the Extra Virgin Olive Oil is from Sicily. All you have to bring to the party is a pan and water. Four pasta meals for two people sounds pretty fantastic doesn't it?

All the products arrive in a beautiful box.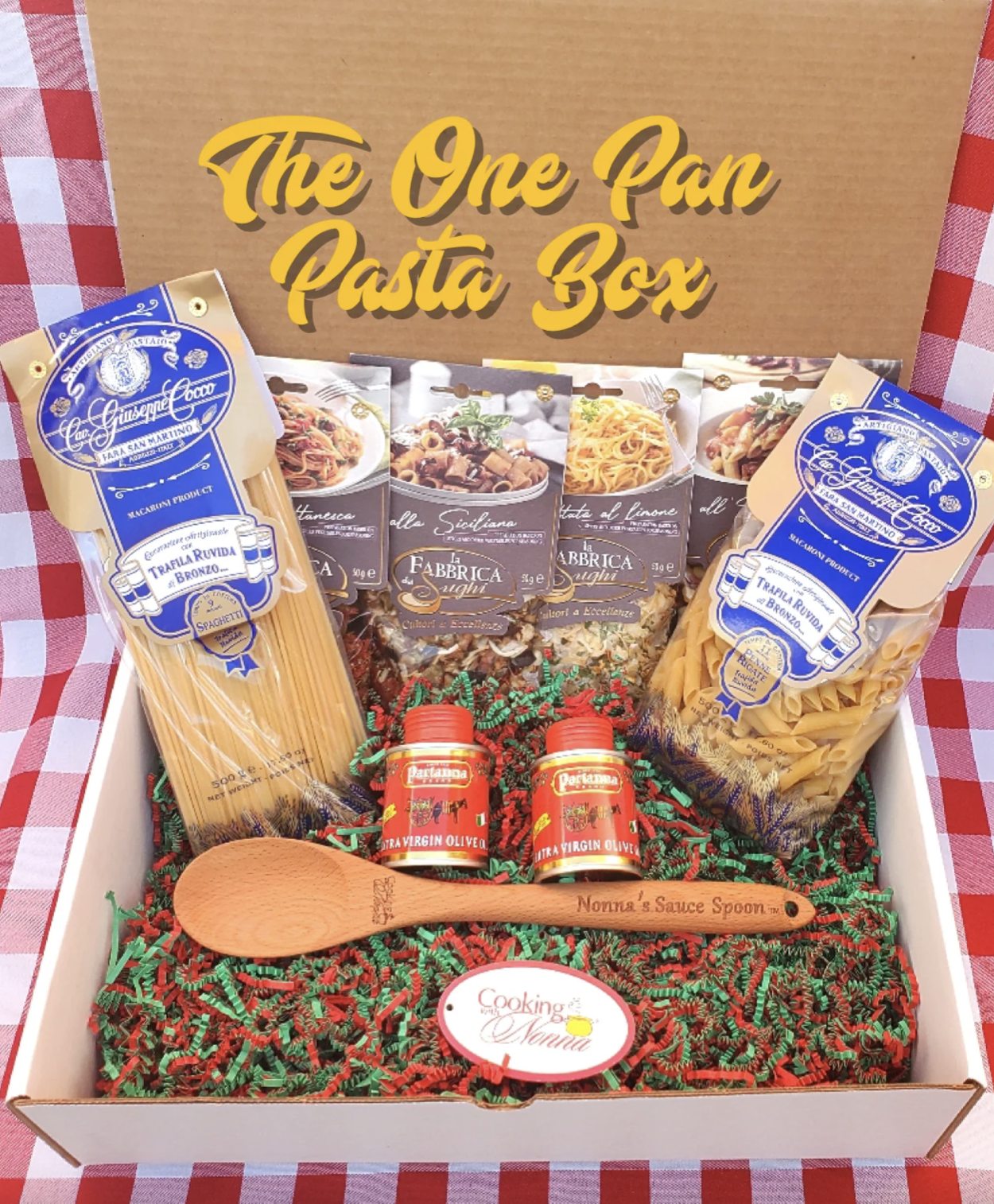 Each Box Contains:
1 Pack Condiment: Spaghettata al Limone
1 Pack Condiment: Spaghetti alla Puttanesca
1 Pack Condiment: Pasta alla Siciliana
1 Pack Condiment: Pasta all'Arrabbiata - This one is HOT
1 Lb Spaghetti - Cav. Giuseppe Cocco
1 Lb Penne Rigate - Cav. Giuseppe Cocco
1 Nonna's Sauce Spoon
2 - 100 ml tins of Partanna Extra Virgin Olive Oil from Sicily, Italy
Cooking Instructions:
Add 3 1/2 cups of water to a wide pan and bring the water to a boil.
Add one pack of the condiments included in the box together with 1/2 (250 gr) of one of the bags of pasta included in the box. Stir well once in a while.
After 4 mins. add 3 tablespoons of the Extra Virgin Olive Oil included. Stir well. Taste for salt and add salt as desired.
Once the pasta is cooked Al Dente, it is ready to be served.
Buon Appetito!