Welcome to Sicilia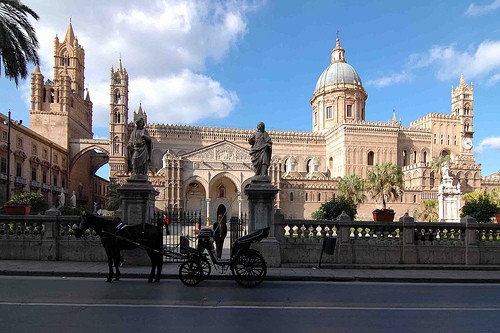 Sicilia is a region of Italy but it is also the largest island in the Mediterranean Sea. Its strategic location in the Mediterranean made it particularly important for commercial shipping routes, thus contended by various invaders during its history. Signs of the numerous civilizations that passed through this land can be seen throughout, from the Greek temple valley of Agrigento, to the Greco-Roman ruins of Taormina, to the beautiful mosaics of the Villa Romana of Piazza Armerina. Cities like Noto, Ragusa, Ibla and Caltagirone are the most beautiful examples of Baroque art in Italy, and how can one not mention Monreale and Palermo?
Particular of this region is the golden landscape with wheat fields bordering forests, vineyards, and its coastline with cliffs alternated by long white sandy beaches, and with the tallest vulcano in Italy, Mount Etna, which remains active today.
The continuous invasions of this land have also influenced its cuisine, which is in fact an adaptation of Greek, Arabian, Norman, Spaniard culinary arts. One very popular dish in its capital Palermo is the "Cuscusu" very similar to the Moroccans' dish "Couscous".
Semola flour is the base for pasta and bread. And Sicilian cuisine is unique in its mixing sweet ingredients such as pistachios and raisins to salty meats and fish. Probably the most famous example is "La Pasta con le Sarde", pasta with sardines and other ingredients which are kept secret by most, just like the ingredients of another "piatto forte", the Caponata, a traditional dish made of eggplants, tomatoes, olives, celery and capers. Sicilia is the largest producer of citrus fruits in Italy, its primary livelihood in the past, but also of almonds, figs, and grapes.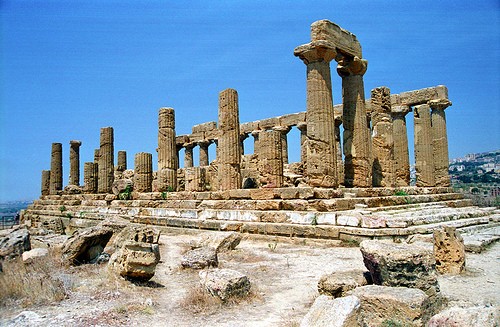 Sicilians, like the Campani are proud of their pastries; cannoli lined in chocolate and filled with ricotta cream, "la cassata siciliana" made of sponge cake, chocolate, ricotta, nuts and covered with candied fruits, and almond pastries make you wish you hadn't spent so much time on the entrees.
Traditional wines such as the sweet Marsala and "Il Moscato di Pantelleria" complement the sweets, but in the last few decades Sicilia has refined it's wine industry and now produces some of the best wines in Italy, just to name a few: the Cerasuolo di Vittoria, or the Donna Fugata anf of course the Nero d'Avola.
It is a land that really needs to be seen, smelled and tasted.

Blood Oranges - Photo: Antonio Pennisi