Butternut Squash Parmigiana
Butternut Squash Parmigiana, comfort food for the winter!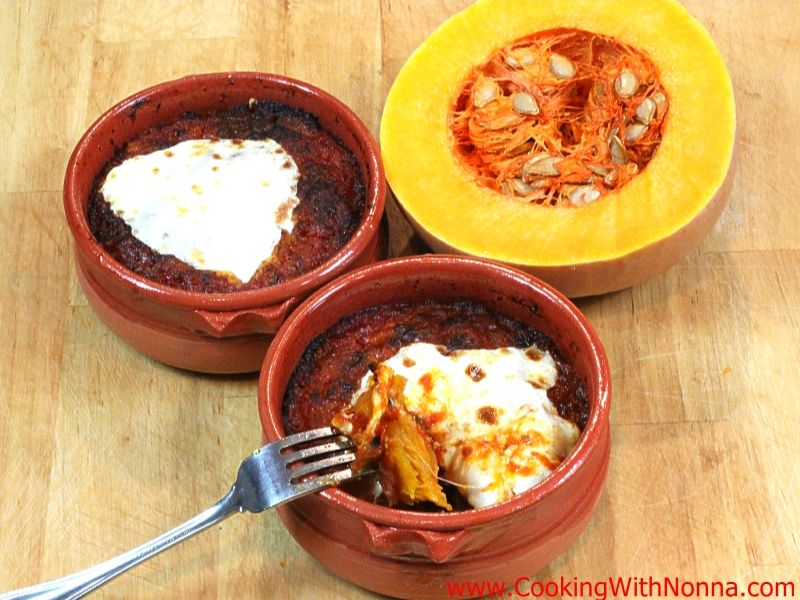 Ingredients
For 2 Person(s)
For the Parmigiana:
1/2

pound

sliced butternut squash

1

cup

crushed tomatoes

1

small onion sliced

1

tablespoons

fresh parsley

4

tablespoons

grated Pecorino cheese

4

fresh mozzarella

1

large egg

1

cup

all purpose flour

salt & black pepper

olive oil for frying
Directions
Pre-heat the oven at 400F.

Make some onion based tomato sauce by first sauteing the onion in olive oil, then adding the crushed tomatoes and the parsley. Cook the tomatoes at medium heat for about 10 mins and set aside.

in a dish, beat the egg to make an egg wash. Add a little salt.

Dip the butternut squash slices in the flour and then in the egg and fry in olive oil until golden. Fry all the slices and set aside.

Take two small clay pots or a larger baking pan and start the assembly process.

Add a small layer of tomato sauce at the bottom of the pot, then a layer of fried butternut squash, a layer of tomato sauce, a Tbs of grated pecorino and a slice of mozzarella.

Repeat the process for the second time but do not put the mozzarella on top yet.

Bake the parmigiana for about 25 mins.

in the last 5 minutes of baking add the mozzarella slice on top.