Meet Nonna Liliana Barone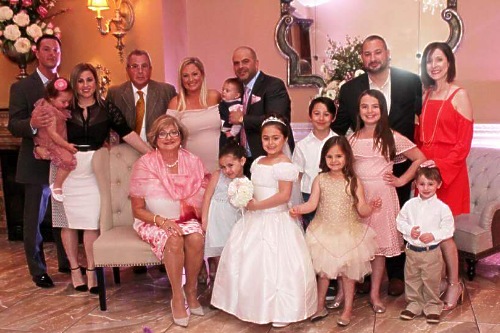 About Nonna Liliana
Born in Palermo, Sicily, in 1951, the youngest of 7 children, my life compared to my siblings was not a struggle. The time after the war, was a flourishing period in Palermo. My two oldest brothers in 1959 were married and their dream was to come to America to achieve their goals.
I was the youngest and going to school at the time. My parents at the age of 16 encouraged me to go to New York, learn English and get my diploma there, because later on, they wanted to follow and reunite the family again.
At 17, I met my husband to be, Salvatore Barone, coming also from Palermo. He became a family friend, but our love for each other grew and we got married. That was already in 1971 and I was 20 years old.
As a young bride, mother of 3 children at the age of 29, my sister and her husband started a small business, importing wedding favors from Italy. Subsequently they asked my husband Salvatore to join them in a partnership. Both Maurizio and Salvatore achieved a beautiful business in Brooklyn, New York, that served the Italian Community called "La Casa Della Bomboniere". A successful and very rewarding business because it kept us very close to each other, to Italy and to our traditions.
As I was raising my family, my sister Lori and I joined our husbands with creating an extension to the store " Il Telaio". We cared for all the aspects of making the wedding plans more complete with the traditional trousseau, china, crystal, gifts for the house with the Bridal Registry. We worked very hard to achieve "The American Dream."
Today, as a retired businesswoman, with my husband, we enjoy the closeness of our married children and our 8 grandchildren. Our grandchildren, 10 years old to 18 months keep us very busy and we enjoy them very much. My love for cooking has grown and has become an important tradition that is enjoyed and keeps family together.
I love being able to share and pass on my recipes to Rossella in her book "Cooking with Nonna" and to leave together with the other Nonne a piece of Tradition to my family and all of you who love to cook.
Nonna Liliana Barone