Welcome to Calabria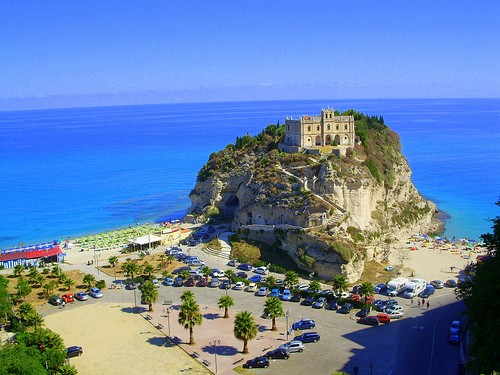 Calabria is a region in southern Italy, actually the "toe" of the Italian peninsula. It is surrounded by the Tyrrhenian and Ionian Seas, with about 400 Km of beautiful coastline, considered by many as the most beautiful in Italy. Tourism in Calabria is shared by the sun lovers who crowd the coast between late spring and early fall, and nature lovers, who trek in the beautiful National parks of the Sila and the Aspromonte.
It is an ancient land, and because of its many natural bays, was easily invaded in the past by many: the Greeks, the Arabs, the Franks, the Spaniards and the Sicilians. The remains of these cultural passages, towers, fortresses, old ports, can still be seen today.
Its geography is rough, with the high mountains of the Sila, the forests stretching down to the coast, but this does not hinder the agriculture, the lower slopes are full of orchards and vineyards.

The Calabresi were for many centuries forced to flee their villages to escape invasions, therefore becoming closed and very skeptical to strangers, but once they get to know you they are very welcoming and warm, offering exquisite hospitality.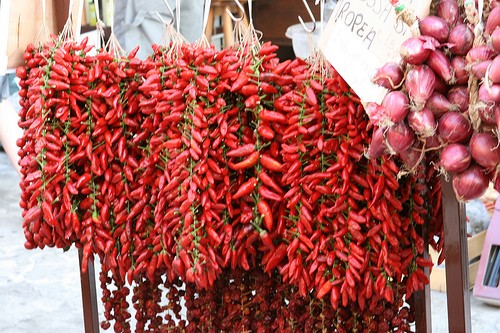 The Calabrese cuisine is a reflection of its history - it is not refined or elaborate, normally simple, its basis being vegetables with eggplant being the queen: "Eggplant Parmigiana" , one of Italy's most revered exports was conceived here, despite the popular myth that it originated in Parma.
Being a penisula, fish is dominant in the region's diet, but the most famous ingredient is the "peperoncino" chili pepper, that is always found in many main courses and used to flavor many appetizers.
Most of the inhabitants of this region grow their own "peperoncino" in their backyards or in clay pots. Typical of Calabria is also the spicy olive oil with "Peperoncino" called "Olio Santo".


Advertisement
Meat in Calabria means pork and goat and this is where we find the tastiest delicacies. Pork gives delicious cold meats, many types of salami, of bacon and of soppressate, very often kept in jars full of olive oil. The goats give a rich and tasty milk that is used for the famous "pecorino" cheese.
Calabria has not been particularly famous in the past for its wine. However, in recent years it has mastered the art of wine making and now produces an excellent label, the "Ciro" made mostly from the Gaglioppo grapes present in the territory of Pollino and Sila. It goes without saying that the lesser-known table wines are quite enjoyable.