Welcome to Emilia-Romagna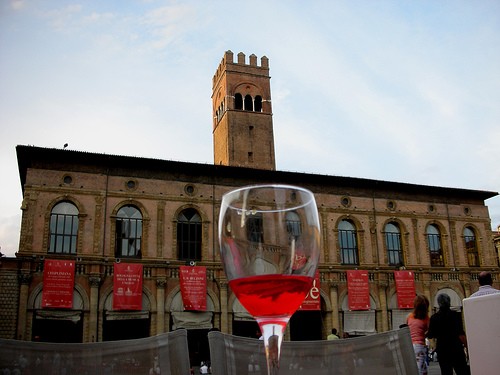 Emilia Romagna is a triangle of land south of the Po, the river that crosses the north of Italy from East to West, and the valley of which accounts for most of the agriculture and pasture land of Italy. Emilia Romagna's territory is half Po valley and the other half hills and mountains of the Appennines. The ideal geography is the reason for the regions wealth, not only economical, but cultural, political and naturally culinary.
Bologna, the capital city, is home to th oldest university in the world, dating back to 1088; Parma is the musical capital being home of Verdi; Modena, native city of Pavarotti; Ravenna, the last capital of the Roman Empire, with it's unique mosaics which make it the fourth most important city in Italy for artistic treasures;
Rimini, most popular for it's beaches and for it's night life and countless "museum towns" like Sant'Arcangelo di Romagna, Brisighella, Ferrara and it's castle.
It is a region of proud and hot headed people. It was Emilia's farmers, always dominated by the Papal State, who started the first social rebellions of Italy, which led to reforms and which ended the temporal powers of the Vatican.
Emilia Romagna is very proud to be home of the most popular product of Italy: Parmigiano Reggiano, which can only be called Parmigiano in this region, a cheese aged 12, 24, 26 and 48 months in vaults before reaching the market.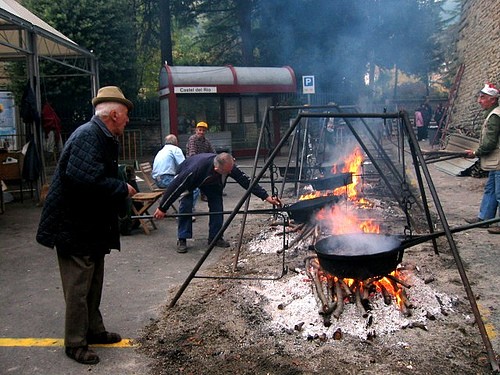 It would take ages to list all the delicacies that have their origin in Emilia Romagna, so let us just name a few: Mortadella, Prosciutto di Parma, Culatello (the heart of Prosciutto , try it after it's been soaked overnight in white noble wine), of Zampone di Modena, a must at new year's eve dinners, of squaccherone cheese served with caramel figs, and of "Fossa", a delicate cheese aged underground and served with honey. And this is just antipasto!
Pasta in Emilia Romagna is always "all'uovo" (egg pasta) and preferably home made: cappelletti, tortellini, tagliatelle, lasagna, tortelli, agnolotti and the famous "strozzaprete" (the name, strangle the priest, is remnant of the social fights).
Favourite vegetables are eggplant, peppers gratin , mistura (all field veggies boiled and then sautéed in garlic and oil) and salads that need to have at least six types of lettuce all topped by the famous and only Aceto Balsamico di Modena.
The pastures being so rich makes for excellent "Chianina" beef, tender veal and lamb. Bread varies from the "Croce Ferrarese" a crispy cross that is baked once a week, to "gnocco fritto" (a fried savoury dough) to the world famous "piadina" a yeast-less flat round bread that can be eaten as bread or, filled with cold meats, cheese or vegetables has come to be the Italian "fast food" per eccellenza.
The 80 miles of Adriatic coast and the known industrious nature of the inhabitants make Romagna one of the major "sea farmers" which means there's quite a choice of fish dishes, although the Romagnoli like to just cook their fish on charcoal after having marinated it in garlic, oil, pepper and bread crumbs to give it a bit of a tang!
Desserts are simple, angel food cakes and "crostate" topped with the excellent fruit that grows in Emilia Romagna. (This region it is the main producer of peaches, apricots, pears and watermelons in Italy).
Are we thirsty? Well, then wash it all down with some red wine like Sangiovese and Lambrusco, or some white Trebbiano or Albana.