Welcome to Piemonte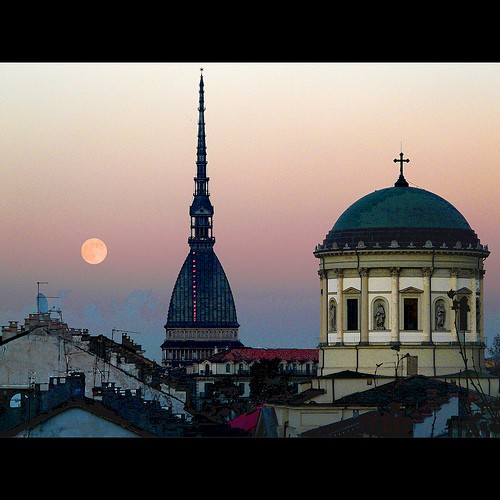 Piemonte is located in the northwestern region of the boot. It is one of the most industrialized regions of Italy, playing host to the headquarters of automobile manufacturers such as Fiat, Lancia and Alfa Romeo.
The territory ranges from the rugged peaks of the Alps, with Monte Rosa, the second highest mountain of the range, to the national park of Gran Paradiso, the gentle hillsides of the Langhe and Monferrato, to the damp rice paddies of the Vercellese and Novarese, on the plains of the Po river. It's capital, Torino, with it's beautiful and elegant geometrical buildings and Piazzas, was the birthplace of what is considered modern-day Italy, as it was the place where it was proclaimed in the 19th century. It was the first capital of modern Italy, until it was moved to the current capital of Rome. Left behind are long stretches of ancient capital buildings that stand today, a living mirror of Italy's political past.
If one decides to take a culinary trail in Piemonte, its should be in early fall, the time of year that reflects the landscape at it's best. The colors of the woods, of the fields and hills, and the snowy crowns atop the the Alps will quench your eyes, but the time is also right for Truffles, the region's pride and staple ingredient in many regional dishes
The lusty allure of Piemontese cuisine lies in simplicity and substance, with strong flavors and aromas. Typical dishes from this region are "La Fonduta" made with fondue cheese, "Risotto alla Piemontese", with meat stock, truffle, nuts and Parmigiano, "Vitello Tonnato", veal with tuna sauce, and the very famous "Bagna Cauda", a very spicy sauce made with garlic, oil and anchovies, kept hot and used to dip all the seasonal raw vegetables (the Piemontese version of the French Bourguignon).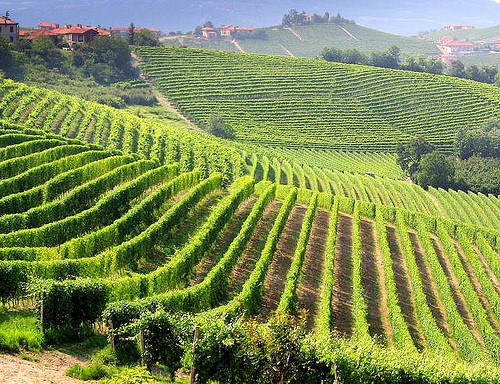 Barbaresco Country- Photo: Rob Riddle
Piemonte is also the largest producer of rice in Italy, therefore it is the main ingredient in the "primi piatti", although "agnolotti", a ravioli shaped pasta, and the "Tagliolini", egg noodles are also very popular, especially served with melted butter and trouffles.
Meats of all varieties are abundant in the region. It's not surprising to see beef, veal, rabbit, lamb, duck and as well as pigeon as the main ingredients in "ricette piemontesi".
Cheese is another regional specialty; most notable is the "Robiola", a creamy cheese made from goat's milk. However, it must play second fiddle to the most prevalent and widely used, the pungent "Gorgonzola".
Piemonte is the region of the finest wines in Italy: king is the Barolo, followed by Dolcetto, Barbera and many others.
For dessert? The finest artisan made chocolates in all of Italy are the base for some of the best "mignon" pastries in Europe.

Chocolate Bon Bons - Photo: Alessandro Petri